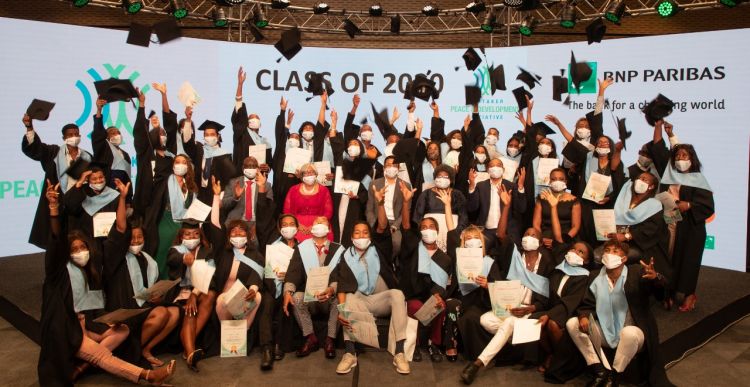 3 December 2020:
Today, 42 young locals graduate from the Whitaker Peace & Development Initiative (WPDI) Youth Peacemaker Network programme.
Launched in 2018 by the NGO WPDI, supported by BNP Paribas & RCS, the programme aims at helping young men and women from Cape Town districts to fill the roles of peacemakers and entrepreneurs within their community.
The Whitaker Peace & Development Initiative (WPDI) – a non-governmental organisation (NGO) supported by BNP Paribas and its consumer finance arm RCS – made a commitment in 2018 to enable young people of the Cape Flats to become community ambassadors for peace and entrepreneurship. Today, this commitment was realised, as 42 young locals graduate from the WPDI Youth Peacemaker Network programme based in Athlone.
These first graduate peacemakers – referred to as "Trainer of Trainees" (TOTs) – were selected last year, based on their personal experience and capability to act as agents of change in their community. Having successfully completed a year-long curriculum that covers Conflict Resolution, Information Communication Technology (ICT), Entrepreneurship and Trauma Healing, the 42 South African graduates join an ever-growing global network of WPDI peacemakers in South Sudan, Uganda, the United States and Mexico.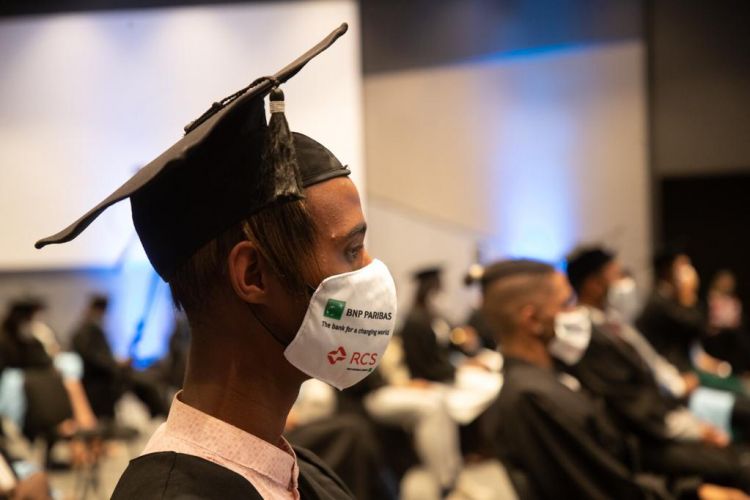 Speaking virtually at an intimate graduation ceremony held earlier today at the Century City Convention Centre, CEO & Founder of WPDI, Forest Whitaker expressed immense pride and joy in welcoming a new generation of young social development ambassadors in South Africa. "Today, we are united by a unique ambition to make our communities better, more resilient, more peaceful and more successful."
"I am even prouder because you completed a demanding training amid another crisis. A major global crisis that nearly brought the whole world to a halt, but did not stop you from striving to learn and grow. I know how hard you have fought to keep the programme's momentum going. You have demonstrated that you possess character – which is probably the most important quality of a peacemaker," said Whitaker, in his address to the graduates.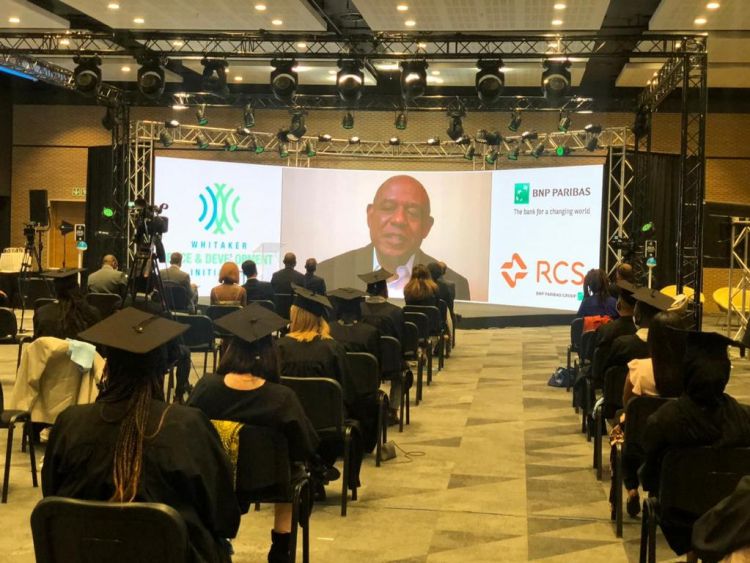 Antoine Sire, Head of Company Engagement at BNP Paribas, who attended the graduation virtually from Paris, commented that the current COVID-19 crisis has made the need for programmes of this nature that much greater. "In the face of the health crisis, we must pay particular attention to all those who are facing great difficulty in the current situation. For that, the actions can only be collective. Despite the pandemic, WPDI and Trainers of Trainees proved they were able to adapt and continue the training. I am impressed by their resilience and achievements to promote peace in Cape Town, which is key for a sustainable future. We believe that supporting youth and sustainability programmes is key to combatting these social issues, which is why we remain committed to supporting initiatives like the WPDI that empower young people from disadvantaged communities," Sire says.
Vikas Khandelwal, Head of Territory for BNP Paribas in South Africa, believes that this graduation ceremony signifies that the seeds of the WPDI have been successfully planted and are already beginning to grow. "Through our partnership with WPDI, we are beginning to better understand how peace and conflict resolution not only affects disadvantaged communities in South Africa, but also business development and the economy. We recently conducted an inaugural piece of research into how violence affects South Africa's workforce, and how this also impedes a thriving economy. In a bid to begin tackling these larger development issues, WPDI will soon yield its first pool of small businesses in the community as part of its entrepreneurship programme which I am proud to have been involved in as a mentor."
As a local Capetonian Regan Adams, CEO of RCS – a wholly-owned subsidiary of BNP Paribas – discussed how the partnership with WPDI seeks to bring about true change in areas deeply affected by gang violence. "We believe in empowering young women and men in order to create a ripple effect throughout our troubled communities."
"Our partnership with the WPDI is a long term collaboration and we are fully committed to supporting them in their mission. RCS together with BNP Paribas are supporting the programme on various other levels to ensure the ToTs acquire the necessary skills and exposure to secure a better future. This includes mentorship of the ToTs by mid and senior RCS management, offering job and training opportunities, use of office equipment as well as a car sponsorship," Adams comments.
Kayla Isaacs from Mitchell's Plain, who is a graduating TOT in the WPDI programme, says she is honoured to be an ambassador for peace. "From first being accepted into the programme, to graduating today, the skills we have learnt are already proving valuable. Now, our mission is to continue the work and share these skills with the greater community.
"This is especially important now, given the widespread challenges facing our communities as a result of the COVID-19 pandemic. For this reason, the opportunity to be a Peacemaker is all the more appreciated, and is one that I will make the very most of," Kayla concludes.