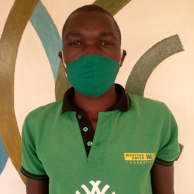 August 13, 2020 – Moses Abigaba is a 25-year-old Ugandan youth living near the Kiryandongo Refugee Settlement. There, he works with WPDI as a youth peacemaker. In the last few months, Moses has played an important role in efforts to raise awareness about COVID-19 and help curb its spread in and around the settlement.
WPDI: Moses, how has your training with WPDI impacted you?
 MA: My training with WPDI has given me a new sense of optimism that has changed my life. With the skills I have gained in Information & Communications Technology, Conflict Resolution Education, and Business & Entrepreneurship, I have become more resilient when facing challenges. The training has empowered and enabled me to become a confident and effective peacemaker in my community.
WPDI: With the COVID-19 pandemic impacting normal day-to-day activities, what have you been working on lately? Have you been able to continue working to foster peace in and around the Kiryandongo Refugee Settlement?
MA: Since the virus arrived in Uganda, I have focused my efforts on raising awareness about COVID-19 in my community. I have disseminated WPDI-generated factsheets about the virus throughout, especially in public gathering spaces like trading centers and at water points. I have also been involved in a door-to-door campaign with community leaders, other youths, and Village Health Teams to help people learn how they can keep themselves safe in these times.
To help maintain a peaceful atmosphere in the community, I have worked with community leaders to spread messages about peacebuilding. Because the pandemic has shut down all primary and secondary schools, we have also distributed educational materials to families in the settlement and in remote areas. This action has reached close to 30,000 students.
WPDI: Do you think your activities have helped make a difference in your community?
MA: Yes. Sanitation in villages has improved and families are now aware that they need to be more careful. I see people regularly washing their hands and observing physical distancing protocols.  Everyone is working together and community bonds have strengthened as a result.
Working with other leaders in the community has made our efforts more impactful. I think my contribution has helped prevent the spread of COVID-19 in my community.
WPDI: Are there any lessons that you would like to share with other youths for International Youth Day?
MA: Never give up when you lose hope or are fearful of new opportunities, especially when it comes to supporting vulnerable people in your community during tough times. We have a valuable role to play in helping curb the spread of the virus. We should all be good role models for others and maintain hygiene.