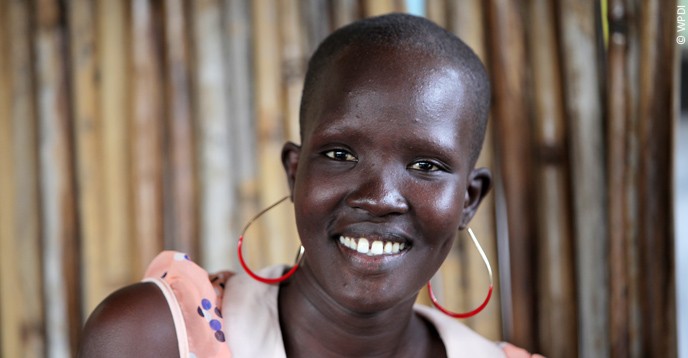 October 2, 2020 – Earlier this week, Magdalena, a Whitaker Peace & Development Initiative (WPDI) youth peacemaker from South Sudan, virtually participated in a side event at the United Nations General Assembly. An ocean and a continent away from New York, Magdalena called upon governments and international organizations to tap the power of young people at the grassroots level. As a young woman with extensive experience in mediating conflicts and developing entrepreneurial projects, Magdalena is one of WPDI's best ambassadors to advocate for the right of youths to being empowered and trusted as partners.
Conducted by our partner, the Education Above All Foundation, the event – titled Youth, the Citizens of Change and Action for Peace – aimed to provide young people with an opportunity to share their views, experiences, and advocate for the meaningful involvement of youths in the achievement of the Sustainable Development Goals (SDGs). Yet, with only 10 years remaining to achieve the 2030 Agenda, young people today are particularly exposed to challenges – like uncertain educational prospects and skyrocketing unemployment – due in large part to the ongoing COVID-19 crisis, which has aggravated many of these existing issues. To meet the present moment, the world needs to pay attention to their situations and also understand that youths are not mere beneficiaries; they can be doers. They can enact change by themselves – if they are empowered and trusted to do so.
Magdalena spoke to this during the first main session of the event, titled Youths Embodying Global Citizenship Values. She told the audience of her work to further the SDGs in her community and mentioned the initiatives she has undertaken with WPDI in the context of building peace in the times of COVID-19. She specifically noted that "young people need to be involved in the work to change and transform their communities" and provided examples of how young people have been able to overcome challenges others could not, such as her efforts to successfully resolve a longstanding conflict between two tribes in her area. A uniquely talented and inspiring person, Magdalena nevertheless reminds us, as one of the 408 million youths living in conflict and violence-affected places, that there are millions of young people across the world ready to take join efforts to bring about peace and sustainable development in their communities.