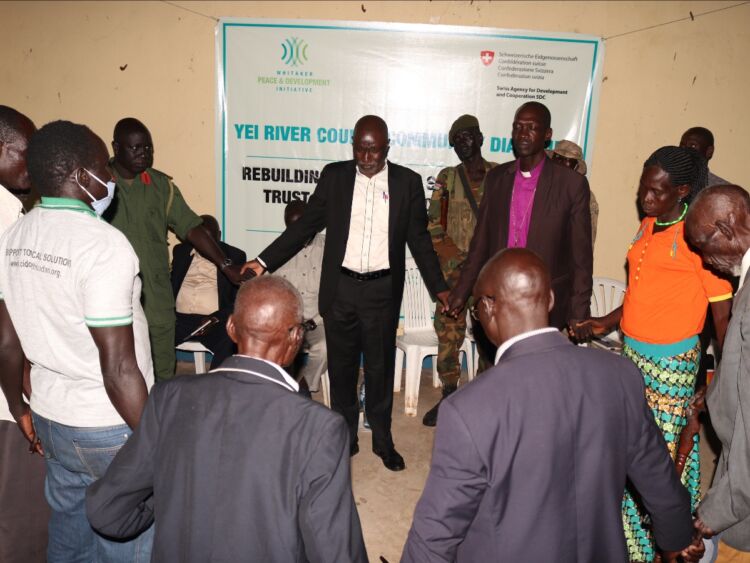 November 10, 2021 – Recently, WPDI – with support from our partner, the Swiss Agency for Development and Cooperation (SDC) – organized a community dialogue in South Sudan's Yei River County. Held in a context of a recent upswing in violence in Yei River, the dialogue aimed to bring together key stakeholders to discuss the current situation, how to resolve conflicts, and promote peaceful coexistence in communities throughout the county.
In recent months, communities across Yei River County have been impacted by a surge in violence and conflict. Despite a national peace agreement, government forces and various rebel groups have continued fighting in the county, with devastating results: The United Nations estimates that tens of thousands of South Sudanese citizens have fled their homes since May. Beginning of October, the Hon. Commissioner Aggrey Cyrus Kanyikwa of Yei River County asked WPDI to intervene and help address a growingly preoccupying situation. His move to request our services was based on his positive appreciation of prior  peacebuilding work conducted by our Youth Peacemakers active in the county. We quickly organized a dialogue to bring together key stakeholders and resolve their conflicts. Invitations were sent to the county's chiefs, religious leaders, female and youth leaders, and government officials.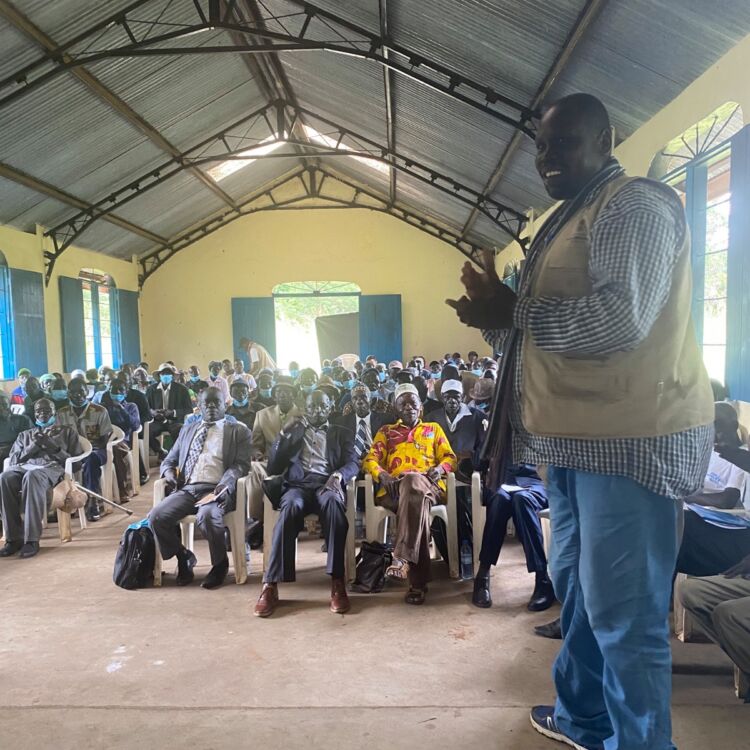 The dialogue began on October 18 and lasted for five days, during which 153 participants discussed recent hostilities, pre-existing conflicts, and how to resolve them and live together in peaceful coexistence. As it touched upon sensitive issues, the dialogue proved to be difficult for attendees at times – several moments grew heated – but, our youths ensured that emotions remained contained and everybody was given the opportunity to speak. This helped develop goodwill, and in the dialogue's final days, participants were able to come to agreement on several points key to laying a foundation for building lasting peace. Ultimately, all parties agreed to end acts of violence, remove unnecessary security measures like checkpoints and arbitrary arrests, and create an environment so that displaced persons can return to their homes.
"I was very happy to participate in the dialogue and speak freely about the challenges facing us," said Celina, the Chairperson of the Otogo Payam Women's Association. "I strongly believe that the situation here will not be the same after this meeting. It was a positive move towards peace." Joseph, the Paramount Chief of Yei River County, concluded similarly, telling WPDI after the dialogue that "I think the dialogue was a breakthrough moment because we were able to discuss a wide range of issues. We will be able to move on from the past and peacefully exist as one by resolving differences."
With the dialogue now concluded, WPDI's Youth Peacemakers are working in conjunction with the Civil Affairs Division of the United Nations Mission in South Sudan (UNMISS) to publicize the meeting's results. In ensuring that communities throughout Yei River County are aware of the dialogue's conclusions, our youths will strive to demonstrate to the citizens of South Sudan that peace is within reach when people agree to engage in open and transparent dialogue.