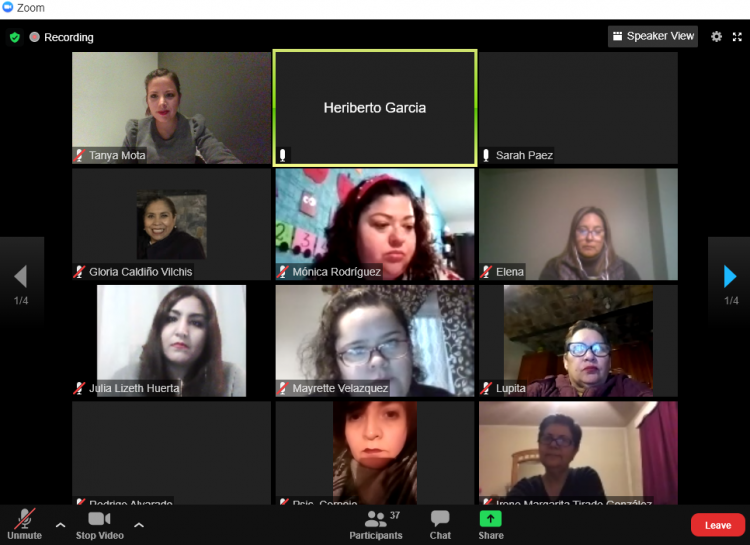 February 22, 2021 – Last month, the Whitaker Peace & Development Initiative (WPDI) in Tijuana held its first Community Dialogue of the year. Focusing on "Human Rights and Their Contribution to Peace," the virtual event brought together 40 participants and special guest Miguel Mora, the Director of Baja California's Human Rights Commission.
Community Dialogues are a key aspect of WPDI's peacebuilding activities, especially in conflict affected and otherwise vulnerable communities like Tijuana, because they create a safe space to address complex issues, such as youth empowerment, gender equality, and human rights. Based our youth-empowerment approach, WPDI gives its Youth Peacemakers leading roles for organizing and facilitating Community Dialogues. It is our tenet that young people can be transformative changemakers if they are given the tools and responsibilities to do so. In this light, preparing them to conduct dialogues is integral to their one-year training with us. Additionally, as community members themselves with knowledge of local realities, the youths are often best positioned to gain the trust of others and help their fellow citizens find common ground in addressing their problems.
While these events normally take place in person, due to the COVID-19 pandemic, we adapted our Community Dialogues to take place virtually, as many issues they seek to address have only been exacerbated by the pandemic. Last month's dialogue – focusing on human rights – was especially prescient, as Tijuana and Baja California have seen increases in cases of domestic violence and other concerning issues.
As such, WPDI partnered with the state's Human Rights Commission to discuss what can be done to continue working to build peace in Tijuana and beyond. For over an hour, the 40 participants discussed how –with the pandemic – their community work is perhaps even more important than before. This sentiment was widely shared, with one participant, Clara, telling us that "We must have an active role during this crisis … We must continue to help others." Another attendee, Cesar – a first-generation WPDI Youth Peacemaker, mentioned how important it is to "think about the positive … human rights is not a game."
In the coming weeks and months, WPDI will keep conducting virtual community dialogues in Tijuana. As we continue to do so, we hope to help bring community members together to create a more peaceful, inclusive, and equitable future, in the city and beyond.