May 25, 2023 –  Getting key stakeholders to the table to discuss issues openly and freely in a safe environment has proven to be conducive to the peaceful resolution of disputes. A basic tenet of peace is that it cannot be achieved if there is no room for dialogue, and this is at the core of our Community Dialogues initiative. It is in this spirit that we have made it central in WPDI's strategy to create conditions for sustainable peace through the provision of platforms for dialogue between different parties in local disputes and conflicts.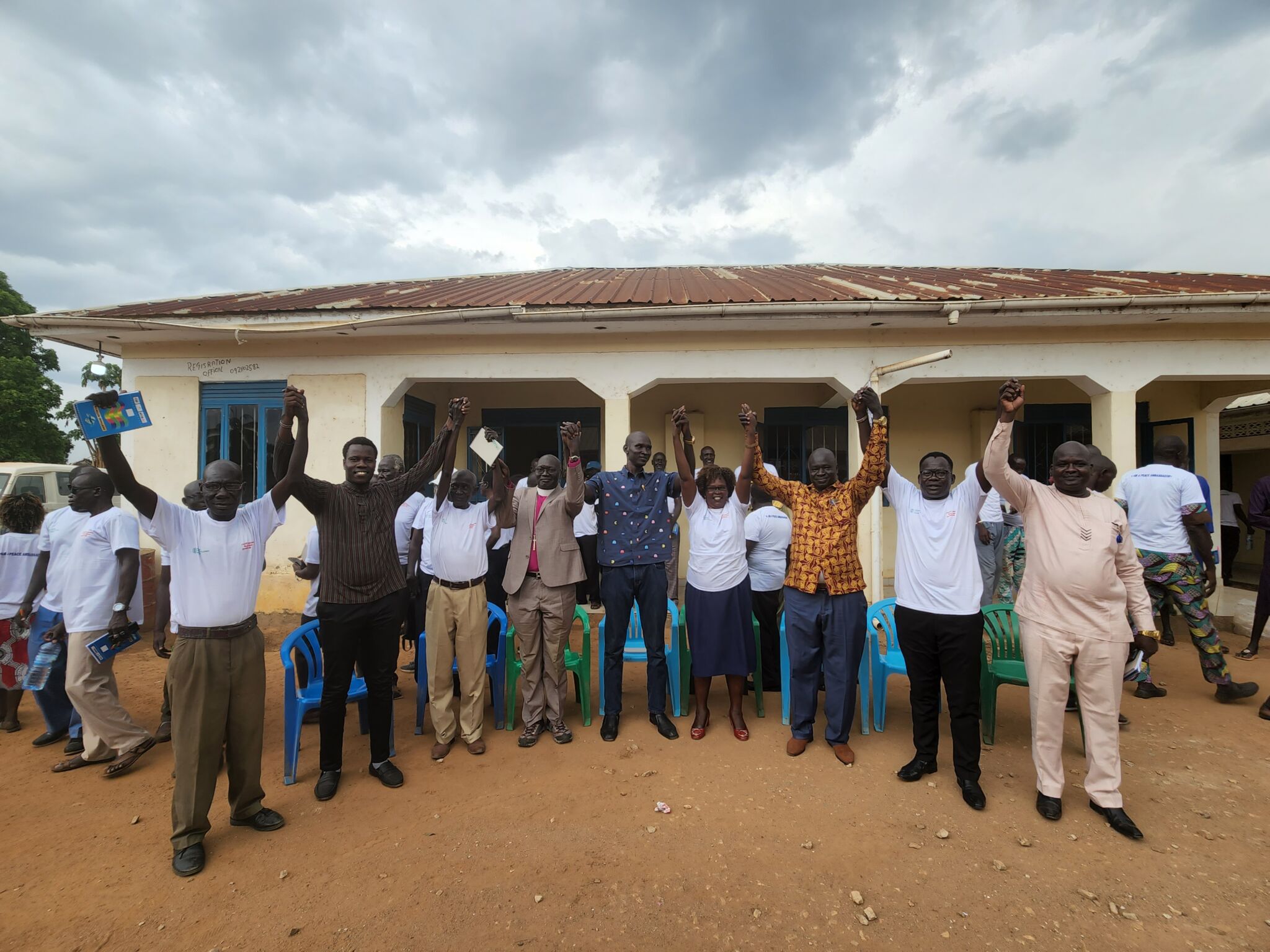 This program has recently been implemented in the Greater Mundri community of Western Equatoria state, South Sudan. In early 2022, severe floods across the region caused the displacement en masse of cattle into farming grounds, leading to widespread destruction of farms and crops and, in turn, violent disputes between cattle herders and farmers. 
It is in this context that, following the floods and water shortages as well as internal conflicts among themselves, herders from Tali, Terekeka County, Central Equatoria State, were forced to migrate through the counties of Juba, Lainya, Yei and Mundri, causing widespread disruption to regional agricultural activities. 
As the influx of cattle into the Greater Mundri community threatened to turn into a full out conflict, WPDI, in collaboration with local authorities, community leaders and stakeholders, organized a Community Dialogue at the end of March focused on resolving the dispute in a peaceful manner.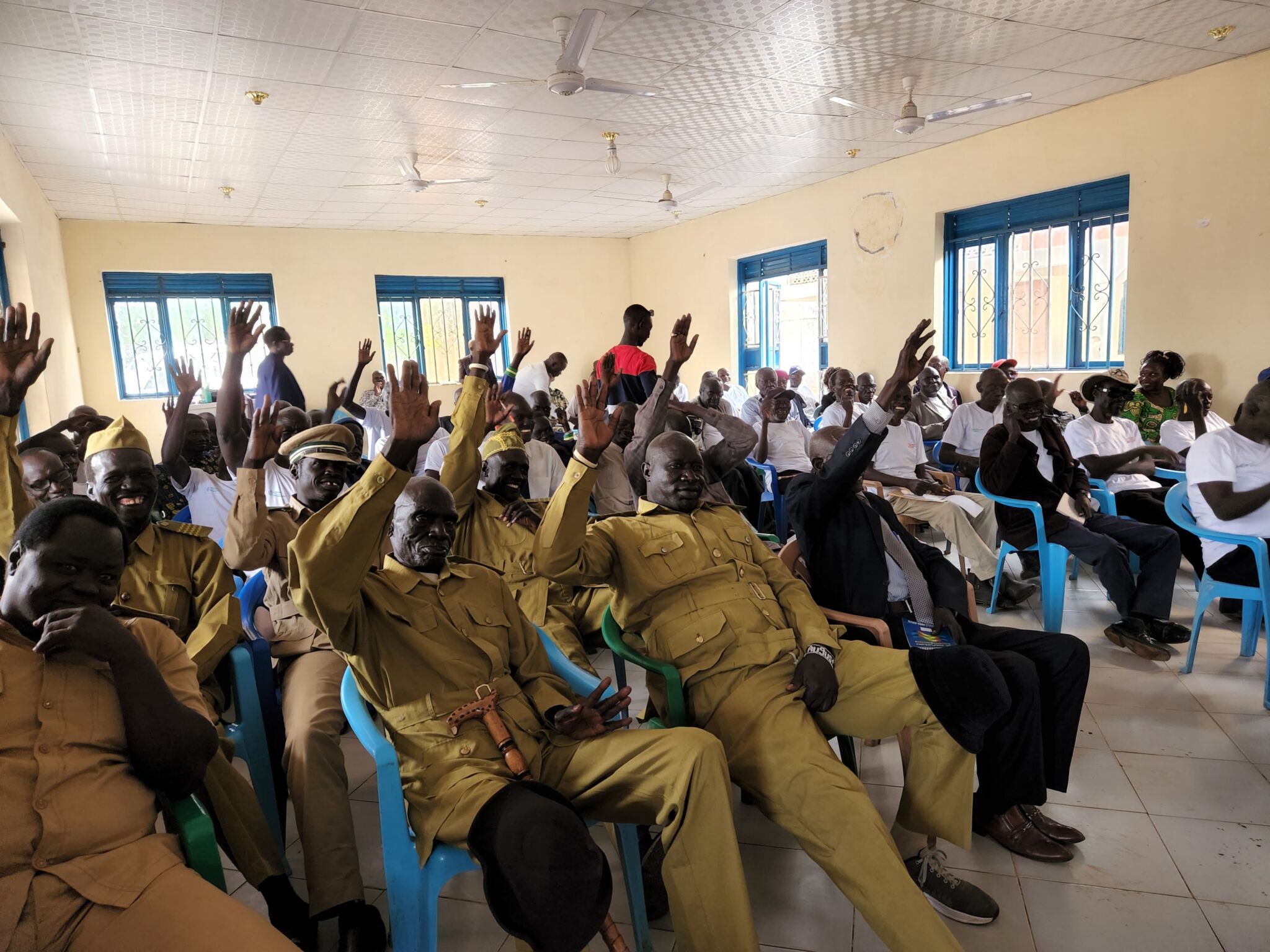 A first outcome of the safe space provided by WPDI was to allow the parties in conflict to express their perspective as well as their constraints and grievances. On that basis, the dialogue moved forward, reaching a consensus on recognizing the importance of observing and implementing the government's directives on the return of all cattle to their places of origin, and that both the state and national governments should facilitate the repatriation of cattle back to their areas. It was also agreed that local administrations would work in close collaboration to ensure that such conflicts are not repeated and that the different regional communities are able to peacefully coexist.
Marial Achuei, chief of the Tali Payam, was delighted with the result: "I want to thank WPDI and the community leaders for initiating this dialogue. There was a lot of fear in the hearts of the people of Greater Mundri that the cattle herders would cause insecurity or destroy their farms, but today the issue of fear has been settled and we have agreed to remove the cattle from farmlands within 30 days as agreed upon. We shall continue with the spirit of dialogue whenever there is an issue because WPDI has shown us the peaceful way to resolve issues." 
In parallel, it was agreed that the Tali cattle herders should be allowed temporary stay in the Greater Mundri area until the return of rains in Terekeka county to ensure the survival of their livestock, as long as agricultural activities in Mundri County continue without disruption.
Not only was the dialogue an opportunity to resolve this specific conflict, but it was also a platform for raising awareness and encouraging certain changes in attitude amongst the different communities' youths. The community leaders were all encouraged to convene meetings to raise awareness and ensure that local youths respect the local community, refrain from harassment of women, youth and all the community members. 
"This dialogue has helped to increase trust and confidence building between the people of Tali and Greater Mundri who are considered as close neighbors. We are going to embrace love, respect and forgiveness as the pillars of peaceful coexistence. This has been made possible by the good work of WPDI through the community dialogue."  said Eliza Dawa, representative of the female population.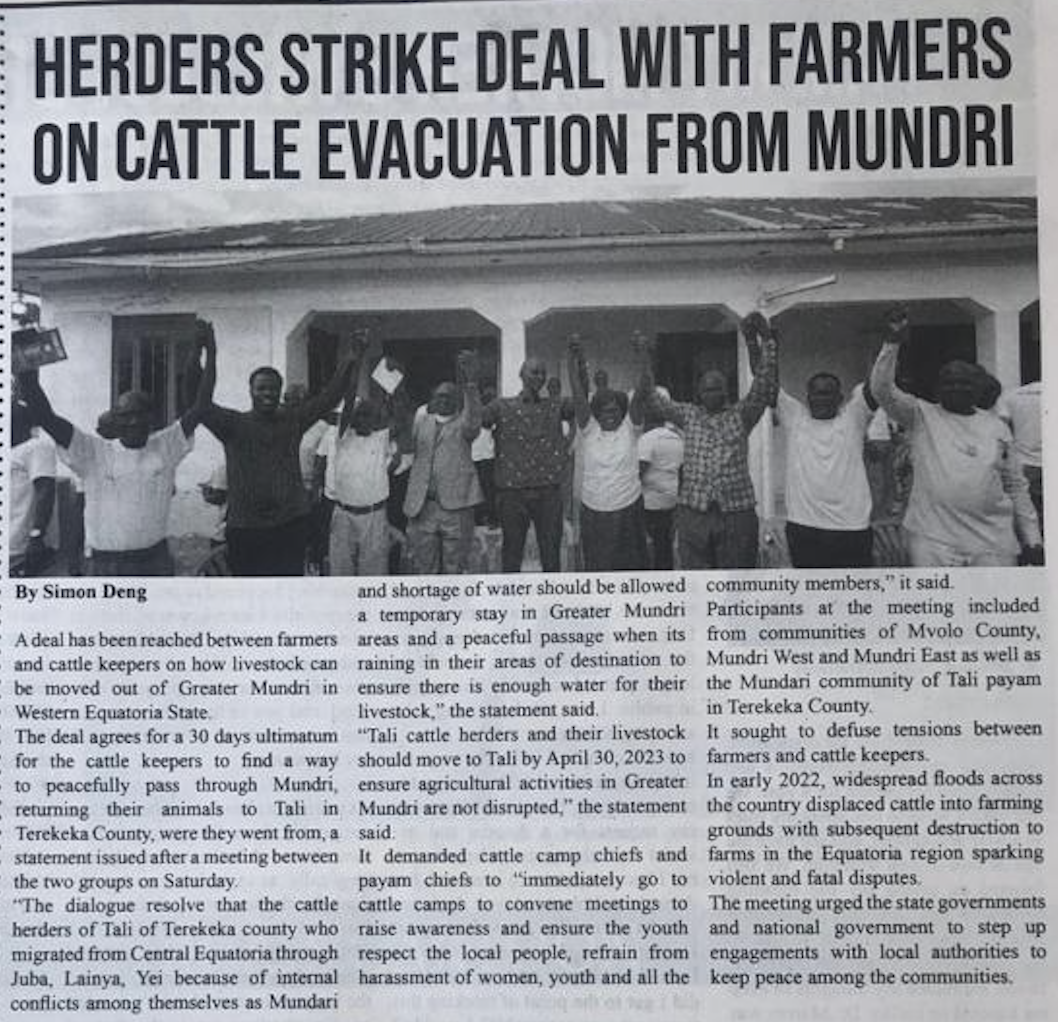 While these statements are important in signaling a recognition of the need for peaceful relations among the herders and farmers, they are only an initial step on a road to lasting peace, which is always a long and tortuous process. As proof of this, it was reported that, at the beginning of May, the Mundari cattle herders were still on the territory they had promised to vacate by April 30th. Unfortunately, tensions have risen again and violence could erupt at any moment. Our teams are already exploring ways to bring the different parties back to the table to discuss a sustainable solution. Dialogue is the only way.
In places where violence threatens to destabilize communities and increase the risk of insecurity, peace takes time to settle, especially when it has been absent for years, if not decades. As old habits take time to disappear, it can take a long time for many individuals and groups to change their ways and renounce to violence as a normal way to address conflict. To this effect, it is critical for peacebuilding organizations to not only help communities address local tensions that may degenerate into wider confrontation but also, and above all, to maintain a long term presence on the ground to ensure that the efforts at peace will be sustained. Such is the approach that WPDI has been heralding and implementing since its creation in 2012, notably in South Sudan where we have been active since before the civil war of 2013. Even when peace seems jeopardized, it remains imperative to sow the seeds of future peace, in South Sudan and in all the places where we operate.
In partnership with