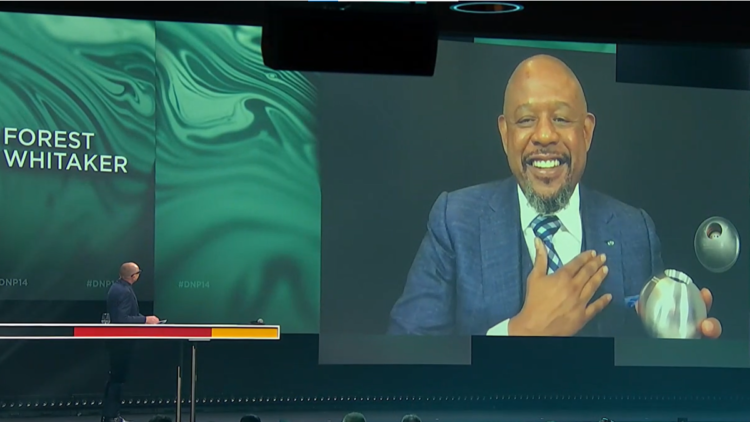 December 7, 2021 – This past weekend, WPDI's Founder and CEO, Forest Whitaker received the German Sustainability Award. Presented in recognition of his advocacy on "environmental and social issues and fight for positive change," the award was celebrated on German Sustainability Day at Europe's largest convention focusing on sustainable development.
The German Sustainability Award was established in 2008 to encourage the acceptance of social and ecological responsibility. The award is endorsed by the German Federal Government, local and business associations, as well as numerous non-governmental organizations like UNESCO and UNICEF and honors groundbreaking contributions to the transformation towards a more sustainable future. In addition to Forest, the Honorary Award winners of the 14th German Sustainability Award include EU Commission President Ursula von der Leyen and musician Joss Stone.
In his acceptance speech at the convention, Forest began his remarks by sharing with the audience some of WPDI's key achievements from the past ten years. He told them about the countless lives that have been changed through the vocational trainings we offer at our network of Community Learning Centers, how our Youth Peacemakers have conducted Community Dialogues that have resolved longstanding conflicts, and the fundamental lesson he has learned in the decade since he founded WPDI: that there is tremendous positive power in young people, power that can – and should – be tapped to better the world. "For many years, we've seen youths mobilize on major issues like systemic racism, gun violence, gender inequality, and climate change," he said.
Forest also commented on the fact that today's key stakeholders have not yet listened to the next generation in a fundamental way: "In some cases, we invite them to speak before governments, before parliaments, or even the United Nations. But time after time, we ultimately return to business as usual, because we miss the fundamental message that youths have for us. That message is simple: They are ready for action, and they need us to trust them with the resources to do so. We cannot keep them in the waiting room any longer." 
His remarks concluded with an urge for convention attendees to take strong action. "My message to world leaders is to treat young people as true partners and ensure that they can contribute to the change that we want to build," he said. "Let's be the champions for those who don't get to be inside this room with us. It may not be easy, but if we pursue this goal together, our planet can truly be transformed. We each have the power to re-shape the world."