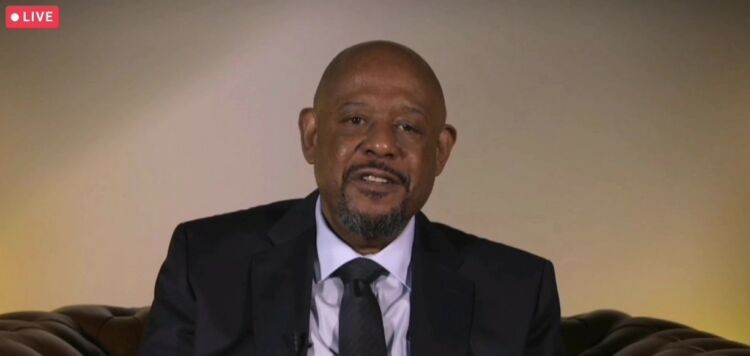 September 10, 2021 – Last night, WPDI's Founder and CEO Forest Whitaker was recognized by the University of Southern California with the Robert Redford Award for Engaged Artist. Awarded at a ceremony celebrating the 75th anniversary of the USC School of Dramatic Arts, the event recognized Forest, who graduated from the school in 1982, as an actor, philanthropist, social activist, and UNESCO Special Envoy for Peace and Reconciliation.
Each year, the USC School of Dramatic Arts chooses a performer to receive the Robert Redford Award for Engaged Artists, which honors an alumnus who distinguished themselves not only in the innovation of their craft, but also for their public commitment to social responsibility.
In his remarks, Forest evoked the many memories he developed while at the School of Dramatic Arts and USC more widely. Indeed, as his mother had attended USC  when he was a child as well, his university experience held deep significance. "I can still remember the joy on my mother's face when I was accepted, as she beamed with pride at this prestigious university recognizing my talent as well," he said. "As I walked around campus that first year, I felt a tremendous sense of opportunity and possibility … The faculty here taught my classmates and I that while we existed as individuals, our greatest successes as artists would come from our capacity to channel our talents … This showed my classmates and I how to look outside ourselves, and see how deeply our choices connect us all, in a truly interconnected world."
He also spoke to how his education still impacts his work today. In reflecting on meeting and working with former child soldiers while filming The Last King of Scotland in Northern Uganda, Forest said "As I worked to go to the core of who I am as a person, acting became my vehicle to uncover what connects us all, and it brought me to Uganda about fifteen years ago." The connection he felt at this moment with these young people eager to rebound from a destructive path was transformative for him. "The link between my art and my social commitment was suddenly made clear to me, right in front of me … This drive was what led to the start of my work with UNESCO and the United Nations, and what later led me to form an NGO called the Whitaker Peace & Development Initiative."
At the close of his speech, Forest issued a call to action to the event's attendees: "Through your art, or through your life, take a chance or a small step toward how you think our society can evolve into something greater – because when those individual shifts are viewed collectively, they can change everything."
To watch Forest's full remarks at last night's event, click here.