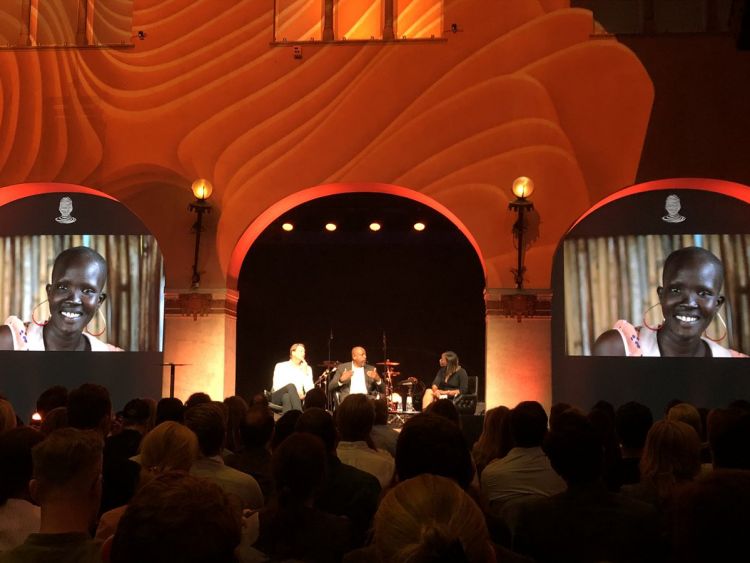 June 19, 2019 – Last week, Forest Whitaker – the CEO and Founder of the Whitaker Peace & Development Initiative (WPDI) – took part in the 2019 Brilliant Minds Summit in Stockholm, Sweden, where he urged the world to embrace youth empowerment as a key tool for peacebuilding. Over a two-day period, from June 13-15, world leaders – including former US President Barack Obama – conferred at the Brilliant Minds Summit, which was themed "Fluxability Quotient". It called for "big picture thinking, bucking the way things have always been done" and for "entrepreneurs and leaders [to] work together in a marriage of exponential creativity and core values rooted in equality, transparency, social responsibility, and harmony of land and humankind."
At the summit during a discussion session with Verizon CEO and WPDI board member Hans Vestberg, moderated by journalist Isha Sesay, Mr. Whitaker explained how the "unique energy and perspective" that young people possess are key and must be harnessed if, collectively, we want to successfully face our most pressing global challenges. Mr. Vestberg – one of WPDI's strongest supporters dating back to 2012 when he was CEO of Ericsson – stressed the importance of technology in peacebuilding. Both notions are at the heart of our work in places like the United States, Mexico, South Sudan, South Africa, and Uganda where WPDI partners with young people to bring about transformative change. We do this through our Youth Peacemaker Network initiative, which intensively trains cohorts of youths in some of the most vulnerable places around the world for a year-long period in topics including Conflict Resolution Education, Information and Communications Technology, and Business and Entrepreneurship. Upon completing their training, they return to their communities to develop social impact businesses, conduct reconciliatory community dialogues, and replicate their training to other youths.
In his closing remarks at the discussion session, Mr. Whitaker noted that "we live in a time when we have the largest youth generation in human history, with 1.8 billion young people today alive between the ages of 15-29. 90 percent live in developing countries and one in four – approximately 408 million – live in settings directly affected by armed conflict or organized violence. Yet, we know that so many of them are brilliant minds that could change the course of things around them and beyond. Let's think about that, about the potential for transformation that we could unlock if we invest serious resources in projects developed by young people to promote peace and sustainable development in their communities. Let's do our part." After last week, WPDI is in its strongest position yet to continue doing just that in the coming months and years.
While he was in Stockholm, Mr. Whitaker also met with the senior management team of the Swedish Postkod Foundation and Lottery, one of WPDI's strongest partners since 2012. This meeting was an opportunity to discuss our joint achievements and long term perspectives. Since 2012, we have been able to directly impact 300,000 people in Mexico, Uganda, South Sudan, and the United States through initiatives like supporting 49 small businesses and our global network of 15 Community Learning Centers that serve as educational hubs for tens of thousands of people.
Such partnerships are key to empowering dedicated youths eager to promote change in their communities. In this light, platforms like the Brilliant Minds Summit are indispensable in the opportunities they offer to exchange with leaders and grow WPDI's presence to fulfill Forest Whitaker's ambition to reach the 408 million youths who live in places impacted by conflict and protracted violence.