A Blog Post by Forest Whitaker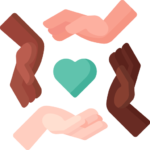 The Universal Declaration of Human Rights was adopted in the aftermath of World War II, a tragic episode in the history of humanity, which found its roots in racist ideologies and discrimination embedded in legal systems. In response to the war, world leaders recognized the importance of protecting the dignity of every person, of the whole of humanity, and proclaimed that: "All human beings are born free and equal in dignity and rights."
These powerful words comprise the first article of the Declaration, and since its creation, they have retained both their relevance and their spirit. They have retained their relevance because even as governments progressively adapted their legal systems to eliminate discriminations, social attitudes and individual behaviors did not change overnight. The United States is a case in point. The country was one of the drivers in the movement that led to proclaiming the Universal Declaration in 1948 on the international scene and, yet, at home, it took us two decades to gradually declare that the Jim Crow laws were unconstitutional. This, as we well know, has not eliminated racism and discriminations from our daily lives. We are still on a quest for "Equality – Reducing inequalities, advancing human rights," to quote the theme identified by the UN to observe Human Rights Day in 2021.
And it is here, in this quest, that we can feel how the first article of the Declaration has retained not just its relevance but also its spirit. The very act of formulating these words brings inspiration and courage to make the world a place that is more just and more humane, starting with our own, personal world. Indeed, while the Declaration connects every human being in the singularity of their dignity, it is not a mere document of abstract concern. It is a responsibility in our daily lives. Eleanor Roosevelt, who was the force behind the Declaration, rightly asked: "Where, after all, do universal human rights begin? In small places, close to home — so close and so small that they cannot be seen on any maps of the world. […] Unless these rights have meaning there, they have little meaning anywhere. Without concerted citizen action to uphold them close to home, we shall look in vain for progress in the larger world." Every citizen has a duty to protect the dignity of others.
This is a tenet of the work I conduct through WPDI. As we train young people and women from conflict- and violence-affected places, our motivation is to help protect or restore their rights as people who have been deprived of education, freedoms, or economic opportunities. But, in the end, our intention is for them to realize that their quest for equality cannot be completed if it does not extend to others.
Recently, our youth peacemakers from the Central Equatoria State of South Sudan were requested by UN Women to go into schools and sensitize students and teachers on gender equality and on issues pertaining to women and conflict. These youths had been impressed by the training we had provided them on the Human Rights Declaration as they learned of rights they did not know they had and became more aware of their capacities as rights bearers. But, from what I can tell, they may have been even more impressed when working in the field and teaching children and adults about the implications of human rights in their lives. They felt the empowering energy that lies at the heart of the Declaration. They discovered this truth that great people, like Eleanor Roosevelt, Gandhi, or Mandela have heralded, namely that: "It is in promoting the rights and capacities of others that we best foster ours."
I dedicate this day to the youths of WPDI, and all the youth who have the audacity to work at reducing inequalities around them, advancing human rights worldwide.