June 20, 2020 – My name is Esther Areymo Ambrose. I am South Sudanese and 28 years old. I live in the Kiryandongo Refugee Settlement after my family left South Sudan due to the conflict there.
I joined WPDI in 2017 because I wanted to become a Youth Peacemaker in my community. After I successfully interviewed for WPDI's Youth Peacemaker Network program, I underwent one year of intensive training. My training covered topics like Conflict Resolution Education, ICT, and Business & Entrepreneurship. Overall, I learned how to actively contribute to building peace in my community.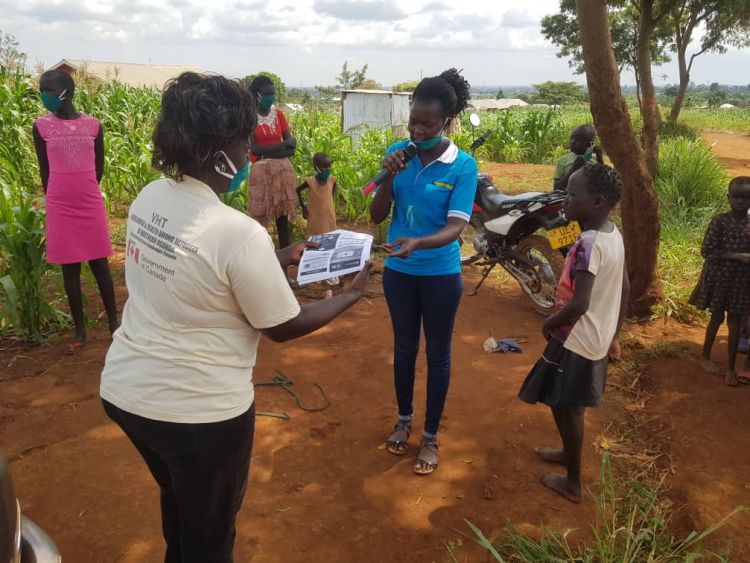 The skills I learned during my training have positively impacted my life. Before COVID-19, I was able to resolve conflicts in my community, foster peace and harmony between different communities, and train other youths on how to also help prevent conflict. Additionally, with the knowledge I gained about business, I founded a small enterprise and am now the proud owner of a salon for women, which has been successful so far. Because of the salon, I have been able to raise my family's income. Running my own business has been an amazing experience for me a young person and as a woman. This is why I was very excited when WPDI asked me to help them mobilize young people in and around the settlement. My role is to bring young women and men into the business program. They will receive training and those who have concrete ideas for a business will have an opportunity to make their dreams come true. WPDI is creating a generation of young refugee entrepreneurs and I am proud to be a part of this.
Once the COVID-19 virus reached Uganda, I joined WPDI's campaign to help local communities learn about the pandemic and measures to help contain its spread. I have disseminated 800 printed copies of factsheets that WPDI has designed to help inform about the virus, gone door-to-door to educate people, and reached out to my network online to spread the word. With other youth peacemakers, I have also distributed hygienic supplies like soap, handwashing buckets, and facemasks. I am grateful to say that the response to the campaign so far has been amazing. We have reached thousands of community members within the settlement and its surrounding areas and significantly contributed to improved hygiene.
Despite the virus and the national lockdown, I think the pandemic has boosted cohesion, unity, and solidarity at the settlement. As a young person and a leader, I hope to use this community support to continue to build peace here.