June 20, 2020 – My name is Rajab Said Emad. I am 26 years old and live in the Kiryandongo Refugee Settlement in Uganda. When I was younger, I lived in South Sudan, but had to flee along with thousands of others as a result of the conflict there.
I have always wanted to be a youth leader. I am passionate about tolerance, peace, and promoting co-existence in the communities within the refugee settlement. For this reason, I joined WPDI's Youth Peacemaker Network in Kiryandongo in 2017. WPDI rigorously trained me for a year in topics like Conflict Resolution Education, Information & Communications Technology, and Business & Entrepreneurship.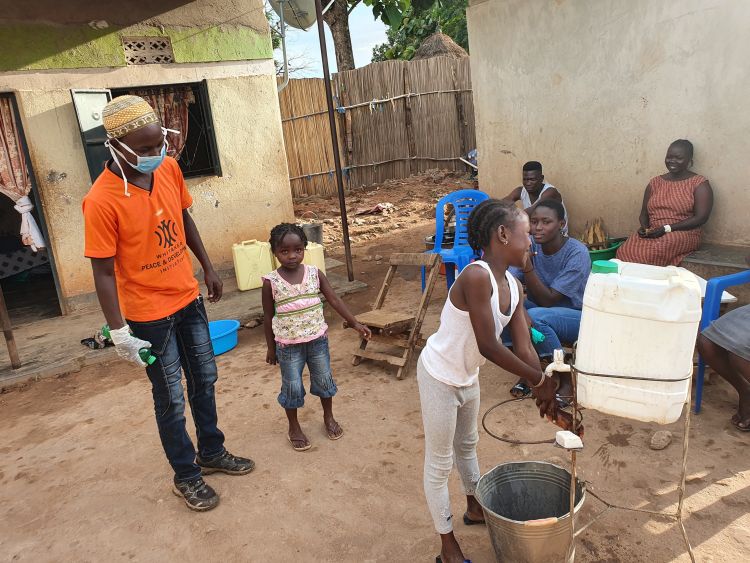 Thanks to my training, I now have more practical skills, especially in conflict mediation, which have helped me make a difference in my community. Since I graduated, I have used my new skills to peacefully resolve conflicts in the settlement, leading in particular to reduced numbers of gender-based violence. I have also conducted several peacebuilding trainings for the community and have helped train a group of 368 local youths to create a grassroots peace force made up of enthusiastic young people all working for peace. This community work is very important for the wellbeing of refugees. This is something I intend to continue, notably through my enrolment in Princeton University's Global History Lab, a partner of WPDI. This is a great program because we first learn about global history and then move to do research on our own to better understand the present. This is a program that I want to use for refugees here in Kiryandongo to better understand where they come from and to tell the world about their situations.
Another great opportunity that WPDI offered me is through their Peace Through Sports program. It is a fantastic initiative. The idea is to manage sports activities that also serve to teach peace and tolerance to participants. This program is very popular in the settlement because it is entertaining and educational. Currently, we have 24 teams and a total of 1,200 people. We have four teams for women, which is a great accomplishment. We have a lot of competitions – some even at the regional and national level. Whenever one of our refugee teams makes it into a tournament outside of the settlement, it feels like a victory.
With the current COVID-19 campaign that WPDI has organized with its partners, I have been involved in a door-to-door educational campaign to help others learn about what they can do to stay safe from the virus. I have distributed informative factsheets that contain information about COVID-19 that has been verified by the World Health Organization, handwashing buckets, soap, and facemasks, and participated in a radio talk show to help get messages about the virus out to listeners. Together with my fellow youth peacemakers in and around the Kiryandongo Refugee Settlement, we have been able to reach thousands of local people with these activities.
My WPDI training has transformed me to become a more vibrant leader within my community.  Using the skills I have gained, I hope to continue to positively impact the lives of other youths in and around the settlement to promote peace and tolerance here.