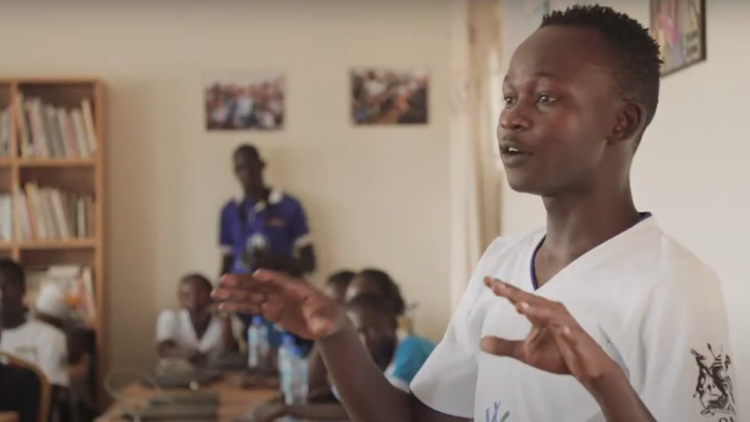 December 13, 2021 – Recently, Rajab – a WPDI Youth Peacemaker active in and around the Kiryandongo Refugee Settlement, located in Western Uganda – was featured in the first issue of Peace in Focus, a new magazine published by the United Nations Institute for Training and Research (UNITAR). Highlighting his journey as a young peacebuilder, the "What I Want is to Make a Difference" showcases all that Rajab has done to promote positive change within his community. Below is a copy of the profile, which can also be found in an online version of the magazine here.
My name is Emad Rajab Said. I am Sudanese, from the Nuba mountains. My family and I were forced out of our country by the horrible war that took place on June 6, 2021. That was the most terrifying moment of my life. When I first arrived in Uganda, I entered the Kiryandongo Refugee Settlement and started a new life. It was not easy for a child to have a fresh start in a foreign country. Peace is one thing that I had wanted since I was a baby. In 2017, I joined the Whitaker Peace & Development Initiative (WPDI) Trainer of Trainees (ToT) program and I was certified as a Youth Peacemaker. Academically, I completed primary and secondary school. I also have a certificate in cooperatives and business administration from the Uganda Cooperative College Kigumba.
My certification as a Youth Peacemaker has brought me closer to fulfilling my dreams. I want to create a better, more peaceful tomorrow. I knew it was not an easy task, but I always believed that it was possible if I worked hard with other people. As a Youth Peacemaker in the refugee settlement, I participated in conflict resolution training in schools in communities within and around the settlement. I also took part in mediation processes and community dialogues to solve, or find a way of settling, disputes in communities. The training has helped to promote a culture of peace, love, and unity among the refugees and the host community. It has created positive change as far as the reduction of domestic and tribal conflicts are concerned. I also participated in radio talk shows, which have hugely contributed to teaching peace and conflict resolution to the neighboring communities. We reached different groups of local communities by employing different languages. This has helped to speed up the dissemination of peace messages to many people in a short timeframe and we received feedback from the listeners in a short time as well, which was positive and encouraging for us to keep teaching peace.
Most of the Youth Peacemakers' work is with the youths and elderly people, but I chose to invest more time to work with a very special group of people: children. Children represent the future. If we can give our time to teach these children the importance of peace and love for each other regardless of tribal, religious, sexual, or racial differences, we shall have a better, more peaceful tomorrow. It is not as easy as I am suggesting it to be. It takes a person to work extra hard because we need a project that makes all of them healthy for their social growth and mental fitness. I discovered that 100% of children love to play sports – 96% love football. Through its Peace Through Sports program, WPDI combines sports practice with teaching about peace and respect. The initiative even includes a peace corporate league for adults. We also organize competitions and friendly matches for all categories. These tournaments have brought together different football players, including a girls' team, who did very well nationally. This has created a healthy relationship among the players who grow more open and accepting of their differences. Many players develop relations with players from opposing teams, including people from tribes that used to fight each other at home. This is a very good sign of peaceful coexistence among the young people and the adults in the community. Peace Through Sports has so much impact that I decided to devote myself to working full time on this initiative. I work harder every single day to ensure that the children have a peaceful environment, with love and respect for each other. Above all, we want them to understand that every person is equally important and that we need each other to achieve something bigger.
I am so happy that this project has impacted not only children, but the whole settlement as well. Today, we reach so many children who have organized themselves to emulate the Peace Through Sports program and invite other friends for friendly matches and they even invite us back to visit them to see how they are doing. The children have learned a lot. They are peaceful and happy and make me proud. Every day, we welcome more than 20 children and youths.
This has answered my questions about what I can contribute to my community. I work very hard every day, week, and month to prepare for the tomorrow I want to see. To make a positive change is all about having love and passion for what you are doing. I love what I am doing and am so passionate about it. What I want is to make a difference.