May 18, 2020 – The Swedish Postcode Foundation – funded by one of Sweden's largest lotteries – had previously partnered with the Whitaker Peace & Development Initiative (WPDI) to support our youth empowerment programs in Uganda and South Sudan. In light of the risks created by the COVID-19 pandemic in communities across both countries, WPDI and the Swedish Postcode Foundation are pleased to announce that they are joining forces anew. For the next several months, our efforts will focus on supporting a COVID-19 campaign designed to disseminate information, best practices, and sanitary supplies in some of the most vulnerable communities in Uganda and South Sudan, led by WPDI youth peacemakers in both places. Marie Dahllöf, Secretary-General of the Swedish Postcode Foundation, declared "It is amazing to see how organizations rise up to help people even though they as well are affected by the current pandemic.  We are therefore very proud to enable the Whitaker Peace and Development Initiative and their WPDI Youth Peacemaker Network to inform and educate local populations in Uganda and South Sudan about Covid-19. In doing this, they can prevent the virus from spreading and hopefully save lives."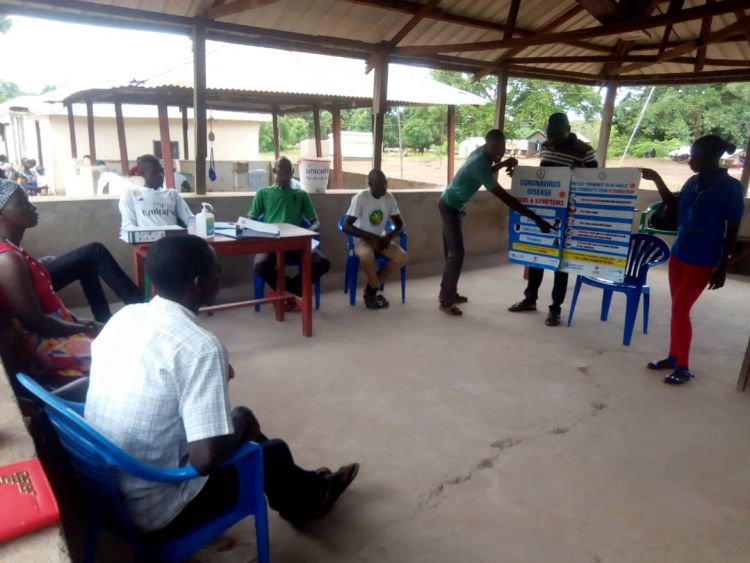 COVID-19 is now a global pandemic which has affected the lives of virtually every human being. As a major public health problem, it is also a threat to peaceful coexistence and sustainable development – especially in places still recovering from longstanding conflict, like Uganda and South Sudan. Many people in both countries, most notably in remote areas, lack access to timely information and are therefore uninformed about how to prevent the spread of the virus in their communities. These vulnerable groups also tend to lack the resources necessary to do so, such as soap and clean water. As a result, the risk of COVID-19 rapidly spreading is high.
In response to these challenges, WPDI started mobilizing the 71 youth peacemakers we support across the two locations to take part in a campaign to disseminate verified, UN-backed information in remote areas where access to information is scarce, which creates heightened risks of contagion by the virus. Helping these communities contain the spread of the pandemics safely and effectively is indeed key for themselves as well as their country and, therefore, Africa and beyond. The philosophy heralded by the Swedish Postcode Foundation and WPDI is that everyone has a role in helping humanity fight the virus.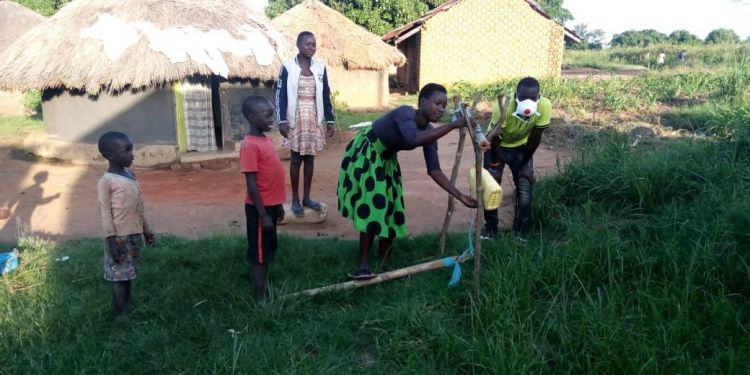 Activities conducted under this campaign include sharing reliable messages and information over radio talk shows, disseminating WPDI-designed factsheets in public locations, conducting digital and community organizing efforts, and providing supplies like soap, water, and masks to at-risk populations. The information they share with local population is very concrete. For the past several weeks and in the months to come, they have made it their mission to translate UN-issued science-based guidelines into vernacular languages or tips to build "tippy-tap" handless handwashing contraptions in areas with no running water. Our Arts & Craft team and students have been working tirelessly to create re-usable fabric masks, which our peacemakers will distribute to more than 1,500 people in the Acholi Sub-Region and at the Kiryandongo Refugee Settlement. Our plan also includes the distribution of hygiene packages – containing one water container with a tap connection and a bar of soap – to over 400 households. This is an intensive and comprehensive campaign that will expectedly reach over 150,000 people – thanks largely to the incredible efforts of our 71 peacemakers.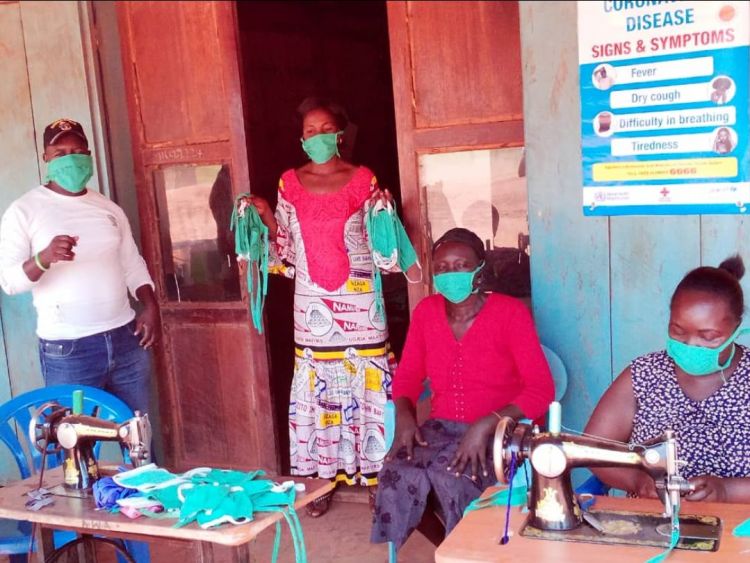 Even though these activities have only been conducted for a few weeks now, they are already having an impact at the community level. Benson, one of our youth peacemakers in the Acholi Sub-Region, recently told a webinar audience that he has "trained a village health team on the signs and symptoms of COVID-19, raised awareness through radio talk shows on how communities should live with each other during this stressful time … [and has] been put on a district task force to identify, trace cases, and connect those with symptoms to the local health authorities."
While the COVID-19 pandemic will surely continue to cause turmoil in the months to come, WPDI's renewed partnership with the Swedish Postcode Foundation will help contain the spread of the virus in Uganda and South Sudan. By mobilizing youths in this endeavor, we also hope to provide another example to the world how youths can take initiative and make a difference in their communities – even during trying times.