March 23, 2021 – Since the Whitaker Peace & Development Initiative (WPDI) began working in the Cape Flats neighborhood of Cape Town, South Africa, in late 2019, promoting business and entrepreneurship has been at the core of our efforts to build peace and foster sustainable development in the community. In order to address some of the root causes of rampant conflict and widespread poverty there, we plan to empower, in the coming years, hundreds of youths with the skills they need to start their own small businesses through our Business Bootcamp program, which is implemented in partnership with the BNP Paribas Foundation, the RCS Group, and the Government of Western Cape. In recent weeks, we have expanded the program by launching two new trainings: one for over 150 trainees in the Lavender Hill neighborhood and another for 18 of our Youth Peacemakers.

As one of South Africa's most violence-affected and economically marginalized areas, Cape Flats has been locked in cycles of violence and poverty – for almost 70 years now. As with many young people in South Africa, youths in Cape Flats face high levels of unemployment, estimated to be over 55 percent nationally. Left to themselves and with few alternative options, many youths in the area often join gangs for economic gain as well as social status, thereby fueling criminal activities that, in turn, continue to hamper peace sustainable development in Cape Flats.
To help address this issue, WPDI is providing vocational trainings and workshops in business and entrepreneurship to both the public and our Youth Peacemakers. These activities have been met with widespread enthusiasm: 165 people registered for our latest Business & Entrepreneurship training course in order to qualify for the Business Plan Competition we plan to hold in May. Meanwhile, 18 of our Youth Peacemakers have been working on their business plans for submission to our dedicated committee in the coming months. While many of their proposals are still in the planning stages, several already sound very promising, and we know that the youths will continue to perfect their business plans to ensure their viability, allowing WPDI to grow the number of businesses we support in Cape Flats by 12, to 20 in total.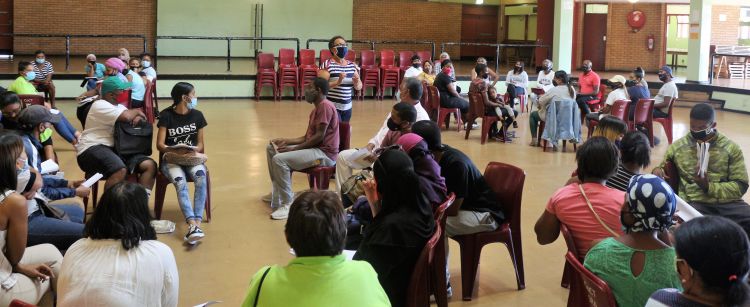 Indeed, we have high expectations for these 165 aspiring entrepreneurs and the nearly 140 more we intend to train during the rest of the year. Beyond their individual successes, though, our highest ambition is to foster a culture of opportunity and possibility in the area at large, a goal we will continue to work to achieve in the months and years ahead.