May 13, 2022 – We are delighted to announce the extension of our long-running partnership with the Swiss Agency for Development and Cooperation (SDC) in South Sudan, a country still grappling with the aftermath of a civil war that started nearly ten years ago. The expansion of the project will help WPDI strengthen its outreach and work with youth associations and youth groups from underprivileged and underserved areas. Based on the success of activities of the existing agreement with WPDI, including on COVID-19 prevention action, and given the volatility of the Eastern Equatoria State especially in mid-2021 when violent conflict erupted due to youth discontent with different issues in the state, WPDI was approached by SDC to further engage with local communities to address such issues, mobilizing its cohorts of youth peacemakers.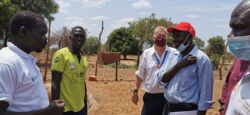 WPDI and SDC entered a three-year collaboration back in September 2019 and running until July 2022. The partnership, dubbed as "Promoting Inclusive Peacebuilding and Sustainable Livelihoods in the Equatoria region of South Sudan through Youth Empowerment and Entrepreneurship" covers a project that focuses on building skills, imparting knowledge and supporting youth initiatives in business and Income Generating Projects (IGPs). The primary aim of the partnership is to improve the long-term resilience and capacity of vulnerable communities in the Equatorias region through a program combining interventions in peace-building and entrepreneurship. 
With a network of over 650 South Sudanese youths trained under its flagship program, the Youth Peacemaker Network, WPDI has trained 174 youths in Eastern Equatoria State, 122 in Western Equatoria State, and 354 in Central Equatoria State. Taken together, these youths form a force for positive transformation in their local communities with the expectation that the impact of their work will eventually contribute to improve the prospects of their region and their country at large. 
The initiative has really been life-changing for the local community. The project has been able to give some hope back to young people who have suffered so much from local conflict. Suzy, Acting Chairperson, General Women Union from Nzara county, for example, stated that the program is the first of its kind in her local area: "No one would even think one day the two conflicting parties would see eye to eye and amicably resolve their differences. From henceforth, I believe in the power of dialogues—thanks WPDI and donors for this initiative. Please extend it to other payams and counties." Another participant, Kubana from Tambura county, was happy that the program gave her the tools to disseminate vital information regarding the Covid-19 pandemic to her community: "It is my pride that they now see me as someone who is giving them hope. The hope that the pandemic can still be contained through practicing the prescribed safety measures by the Experts."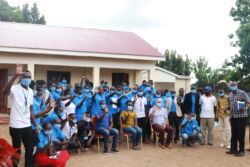 The expansion of the partnership will involve training 90 youths (30 each from the Madi Corridor of Pageri/Nimule, the Greater Torit area, and Greater Kapoeta area) in peace-building and conflict resolution, providing skills that they can put to use in their immediate environments. In addition, three community dialogues are to be convened, one each in the aforementioned areas, in order to bring together community stakeholders and iron out issues that are dividing and bringing about conflicts within the youth groups.
The support of SDC will also extend to the rollout of three Income Generating Projects (IGPs), which are expected to engage the youth in productive activities that can encourage employment creation within the different communities.
Crowning these activities, all the WPDI Youth Peacemakers of the Equatorias will be mobilized to participate in a major conference that will showcase their work to government leaders, members of the traditional authority and other key stakeholders with the objective of raising their awareness on the need to strengthen collaboration of all South Sudanese parties for peace, reconciliation and sustainable development.
We would like to thank the Swiss Agency for Development and Cooperation for their continued support and collaboration on this project, which has allowed us to carry out real, in-depth, life-changing work in South Sudan.
In partnership with: