August 19, 2020 – To lay the foundation for the expansion of our Youth Peacemaker Network (YPN) into Northern Uganda's Karamoja sub-region, the Whitaker Peace & Development Initiative (WPDI) – with support from the Islamic Development Bank – held a series of informational meetings earlier this month to build relationships with local communities. The nine meetings were designed to exchange with key stakeholders in the sub-region's districts, present WPDI's values and programs, and learn about the concrete realities of their respective areas. These meetings help to develop strong connections from the onset and identify opportunities for local partnerships, both critical to ensure that our future activities are well understood and have local engagement moving forward.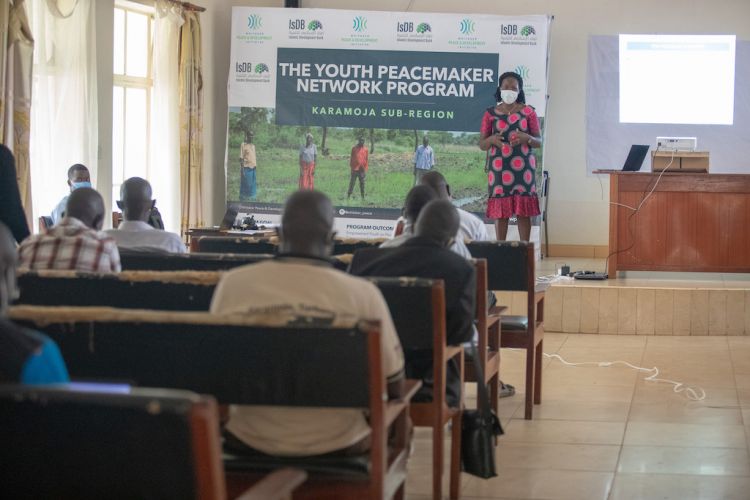 The poorest sub-region of Uganda, Karamoja has been impacted by decades of conflict ranging back to colonial times, leaving behind challenges that its current inhabitants are still grappling with. According to the United Nations Development Program, the Nakapiripirit and Moroto Districts have Human Poverty Indices of 63.5 percent versus Uganda's national average of 37.5 percent. Youths in the sub-region tend to lack access to quality education, employment, infrastructure, and other crucial necessities, which perpetuate cycles of violence.
Yet, positive change is possible – if it is sustainable, endogenous, and responds to local needs and expectations. Our approach is that change can be significantly transformative when designed and driven by local youths; the forthcoming launch of our YPN program will nurture and channel their energies. As a first step in the YPN's deployment process, the nine informational meetings that we held with local stakeholders across the Karamoja sub-region's districts allowed us to identify issues of local concern. A total of 281 prominent stakeholders – including District Chairpeople, Chief Administrative Officers, and other leaders– attended these meetings, helping us build a strong degree of local support on the ground.
In addition to helping local officials learn more about WPDI and the YPN and building relationships, the meetings also served as a key way to gain more insight into how to best tailor the YPN and ensure its success. The Chairperson of the Abim District suggested that WPDI and its partners work very closely with future youth peacemakers to help foster youth entrepreneurship. A school official in another district asked us to train members of School Management Committees and Parent/Teacher Associations in Conflict Resolution Education under our Conflict Resolution Education in Schools program so that they would have the skills to help build more peaceful school environments too. Overall, the enthusiasm and interest in WPDI and the YPN was substantial and all attendees agreed that young people in the Karamoja Sub-Region have enormous potential.