July 11, 2022 – WPDI was delighted to team up with Anand Chulani, Trusted Leadership Advisor, International Award Winning Speaker, and Expert in Mental and Emotional Strength for a unique training program for our Youth Peacemaker Network in Uganda and South Sudan. The online program focused on Leadership and Trauma healing for 94 Youth Peacemakers in Uganda and 60 in South Sudan.

Anand Chulani led the interactive leadership and trauma healing sessions designed to engage the Youth Peacemakers via Zoom. During these sessions, he provided them with tools to be leaders for themselves, to influence their thoughts, actions and behavior and be peacebuilders in their communities. These sessions enabled them to understand why people come into conflict and gave them tools to influence people's way of thinking and actions in order to foster communal peace.
As underlined by Emmanuel, Youth Peacemaker from the Kiryandongo Refugee Settlement in Uganda: "The online  leadership & trauma healing training program was superb. l have learnt that some of the most important human needs are growth & contribution. I am able to relate to these human needs and connect to why people engage in conflict. I appreciate WPDI, Anand & the team for giving me a chance to unlearn, relearn & learn leadership skills & trauma healing steps."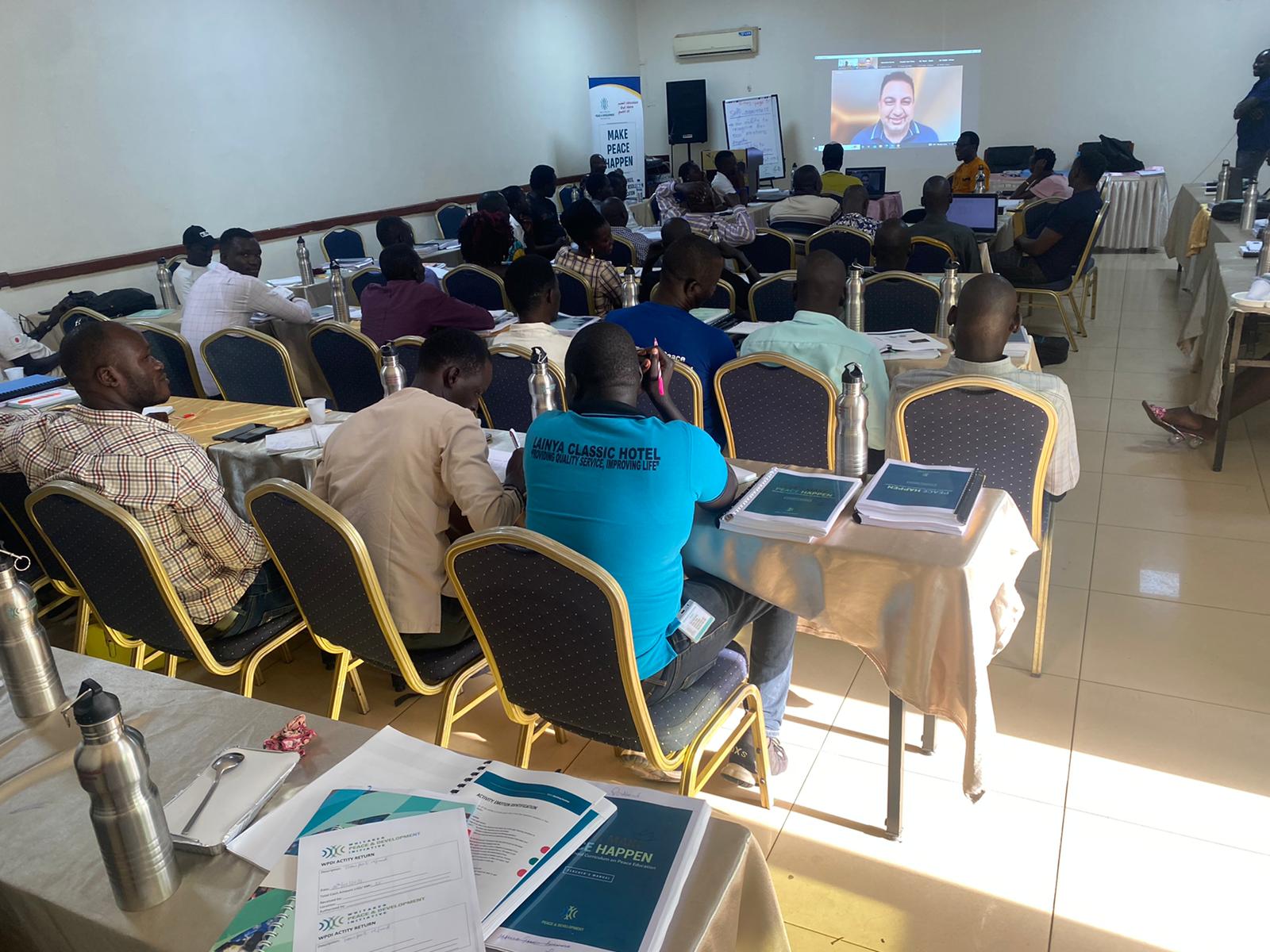 Using tools from his Absolute Champion Methodology, including  visualizations, one-on-one coaching, meditations and therapeutic  interventions, Anand Chulani was also able to help participants free themselves of the suffering of their past, such as losing family members when they were children, which helps them forgive themselves for any pain they may have caused when they were younger and forgiving family members and people who have directly hurt or even killed members of their family. 
Some participants recollected their terrifying experiences as child soldiers: "Traumatic memories always come back when l see a gun, and it makes me feel sad and guilty because of my experience as a formerly abducted child soldier. The online trauma healing training has given me back my peace, my power & my ability to stand up tall and believe that l am a champion, strong, courageous, loving and my past does not determine my future." B., a Youth Peacemaker from the Acholi sub-region, Uganda.
Another of the participants from South Sudan highlighted the transformational nature of the session. Learning to deal with psychological trauma can seem very complicated without the right tools. The goal of Anand's course is to provide these: "The session on leadership and trauma healing by Anand has really transformed my life. Before that, I had a lot of anger in my heart, hopelessness and stress because of what happened to me in our family. When the facilitator said we should use our pain to help others rather than to hurt others, I remembered my dad and all the pain he has inflicted on us. Now, I have forgiven my dad because I learned that the hard time he brought to us has made me what I am today. I have experienced peace of mind and reconciled with my soul. I can see a brighter future ahead of me." S., a Youth Peacemaker from South Sudan.
Although each individual was a victim of circumstance, they did not have to live their life as a victim but rather through the lense of a champion, someone who can redirect their trauma for good. A champion of love, of courage, of self belief, of faith, of forgiveness of strength and to see themselves in an empowered way so they could help communities they work with everyday and help them also rise above their pain and suffering and be champions of peace.

"I am deeply honored to partner with the Whitaker Peace & Development Initiative," said Anand Chulani. "Forest Whitaker's vision for a more peaceful planet is inspiring and the work the NGO is doing is truly extraordinary. Their Youth Peacemakers are some of the most resilient people I've ever met and they are having a real and measurable impact in peace-building in Uganda and South Sudan. It's a privilege to be able to serve them so they can heal, be at peace with themselves, so they can be their own champions and bring that leadership to their communities and to the world."  
Forest Whitaker has recognized the power of Anand's unique approach to personal trauma healing, declaring that "Anand's philosophy is one of the most innovative approaches to personal transformation that I know of. He has rightly identified how leadership and resilience are deeply connected as capacities to elevate ourselves in the face of challenges. This is essential knowledge, especially for young people who are often searching for tools to cope with their transition into adulthood. Anand's training has provided our youths a unique opportunity to learn from their experiences and better prepare themselves to help others regain their resilience capacity." 
About Anand Chulani
Anand Chulani is the Founder of the Absolute Champion Methodology, a Trusted Leadership Advisor & Success Coach to Champions in Business, Sports and Entertainment, International Award Winning Speaker and an expert in Mental and Emotional Strength and Well-Being. Anand's methodology helps people live on the path of the Absolute Champion: to be happy with themselves by knowing who they truly are. Absolute Champions love and accept themselves no matter what and are secure in the knowledge that they are good enough. This gives them the inner power to go out in the world and fearlessly live their absolute potential. In well over a decade, Anand has transformed the lives of over 500,000 people across 30 countries, working with elite family businesses, corporate leadership teams, boards of directors of companies as well as having personally coached champions in sports and entertainment. Anand and his team have also served the world's best doctors, nurses, military and teachers, Palestinian and Israeli youth leaders, abused and abandoned youth in Harlem, gang members in LA, and underprivileged children in Africa and India.
In partnership with