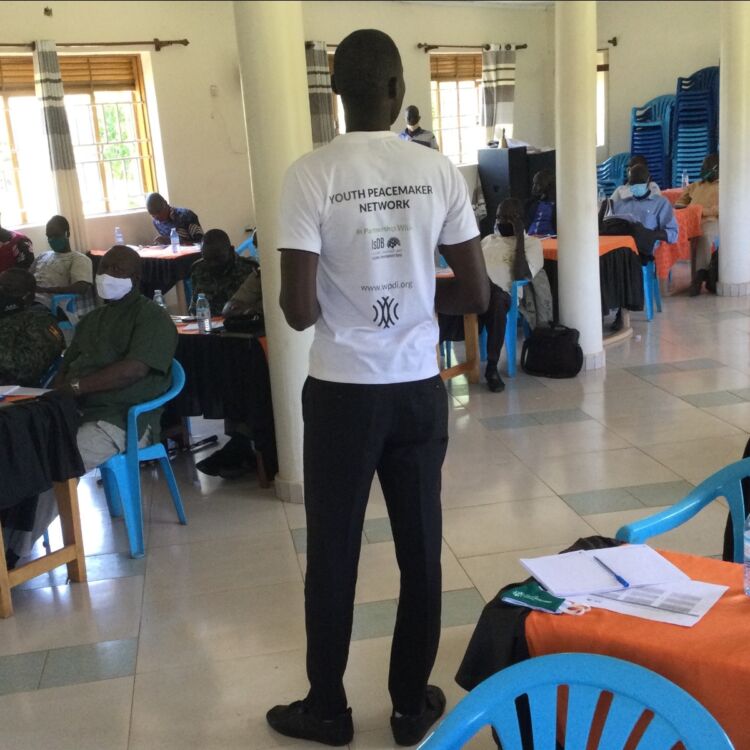 September 23, 2021 – Last month, WPDI completed a series of Conflict Resolution Education training workshops in Northern Uganda's Karamoja Sub-Region. Designed to increase the knowledge of the leaders and support them in managing conflict at the community level, the workshops were held in each of Karamoja's nine districts with support from local authorities.  In total, 427 local leaders completed the training, showing both a strong interest in WPDI's activities in Karamoja as well as grassroots dedication to building a more peaceful future for communities across the sub-region.
The Karamoja Sub-Region is one of the country's most vulnerable areas. In addition to having Uganda's lowest developmental index and its people being embroiled in a decades-long low-level conflict between cattle ranchers and farmers, the sub-region has, in recent months, experienced escalating cases of cattle raids, leading to the loss of life, property, and community cohesion. In the midst of this destabilizing situation, WPDI has – through the deployment of our Youth Peacemaker Network initiative last year – taken steps to help communities in Karamoja build lasting peace and security by training local leaders in conflict resolution and peacebuilding. Empowering those with influence and authority over local communities is indeed key to progressively disseminating a culture of peace that will eventually have a transformative impact on the life of these communities.
The nine trainings that we recently conducted from July to the end of August aimed to provide the attending local leaders with the tools and skills they need to better manage conflicts that arise in their daily environments, in line with our overarching objective: To help spur grassroots action that will contribute to the building of lasting peace and coexistence throughout Karamoja. Led by our cohort of 36 Youth Peacemakers active in the sub-region, the workshops educated the leaders about key facets of conflict, how to mediate conflict, how to use active listening skills, and how to promote peaceful dialogue within their communities, among other subjects.
The leaders themselves voiced their appreciation of the trainings. "Thanks to WPDI and the training I received, I understand how to handle disputes between people," said John, a sub-county chairperson in the Nabilatuk District. "I am optimistic that the knowledge and skills I gained will change my community." Grace, a district councilor in the Abim District, voiced similar thoughts, telling us how "What I learned will be very practical in my duties, as conflicts are regularly reported to my office. In the past, I have struggled to handle some cases, but with my new knowledge, I now realize how to move forward."
Although this particular training for community leaders is now complete, WPDI's efforts to support them as they work to help build peace within their respective communities is not. In the weeks and months to come, our Youth Peacemakers and the local youths they are training will continue to cooperate hand-in-hand with the leaders, helping build grassroots support for peace and reconciliation throughout the Karamoja Sub-Region.