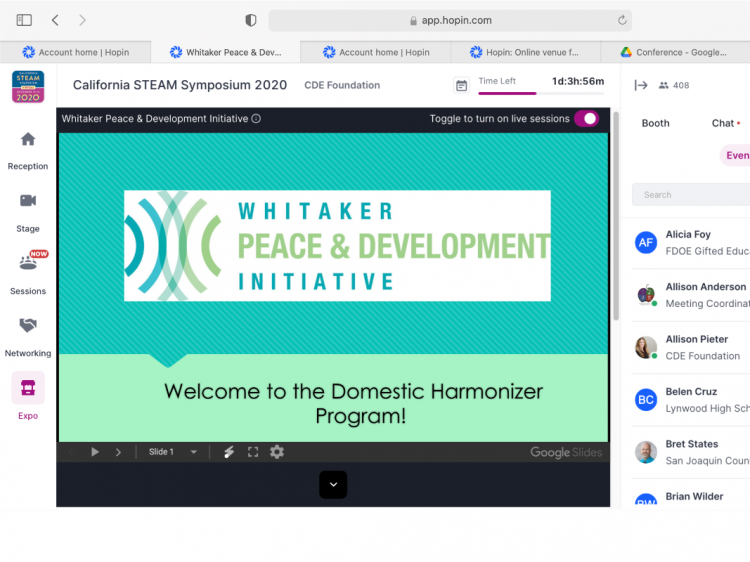 January 6, 2020 – Earlier this month, the Whitaker Peace & Development Initiative (WPDI)'s Domestic Harmonizer Program (DHP) team recently presented the organization's middle school-based peace education program at two conferences.  The first conference presentation occurred at the 2020 International Conflict Resolution Education Conference, hosted by the Ohio Peace and Conflict Studies Network – an annual conference that brings together educators, students, conflict prevention specialists, as well as national and international policymakers. The second presentation was held at the California STEAM Symposium, hosted by the Californians Dedicated to Education Foundation (CDE Foundation) – an annual conference that brings together teachers, administrators, students, and non-profit education organizations to engage in STEAM strategies and resources.  For both conferences, WPDI had to apply to be granted permission to present, and once approved, had the chance to deliver presentations about the DHP to educators, students, and administrators from across the United States and world.
The DHP is unprecedented in its approach because it integrates problem-solving skills such as negotiation and mediation with academic content in English, social studies, math, and science covered in the Common Core State Standards to make it easier for teachers to implement this content in routine classroom instruction. Rooted in restorative practices, the DHP routinely works with students and teachers to build a deep understanding of conflict and how to resolve it constructively in various contexts. As WPDI aims to continuously expand the DHP, presenting at conferences has been a key goal and strategy to promote the important work of enhancing peace education across all academic learning. These conferences presented opportunities to conduct important outreach regarding the program, and also network with other educators.  Of course, given the COVID-19 pandemic, WPDI was not able to present at either conference in-person; instead, both conferences occurred virtually.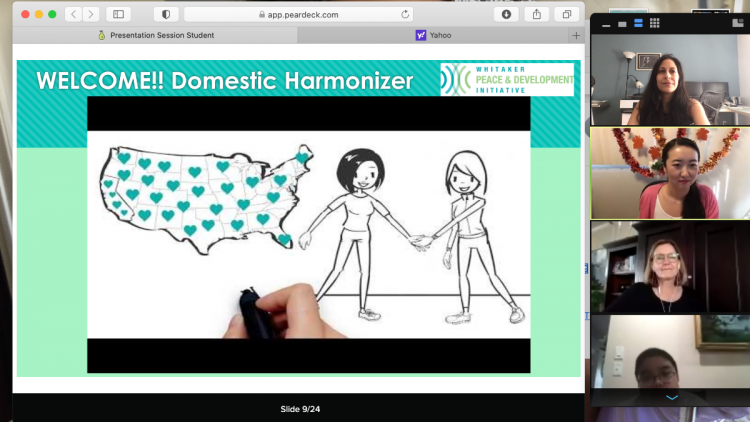 At both conferences, WPDI informed audience members of the DHP by showcasing information and images about the program, including the program's key objectives.  The team also shared information about the results of the recent program evaluation, demonstrating the program's impact. WPDI seized the opportunity to present at these conferences to highlight the important support of the DHP's sponsors, Verizon and Bank of the West.  At the California STEAM Symposium, WPDI held a virtual information booth over the course of three days so that other organizations, educators, and government officials could learn about the DHP and network.  The DHP team was able to connect with attendees at both conferences and answer questions about the program and learn about other resources available.
In 2021, WPDI aims to continue expanding the program by continuing our outreach efforts at other conferences as well as by implementing the program at additional schools both in-person in the Greater Los Angeles area and online once the DHP's virtual center and educational game are debuted.  We are excited by these opportunities of growth and will continue to learn and adapt to the changes posed to education systems during these trying times.