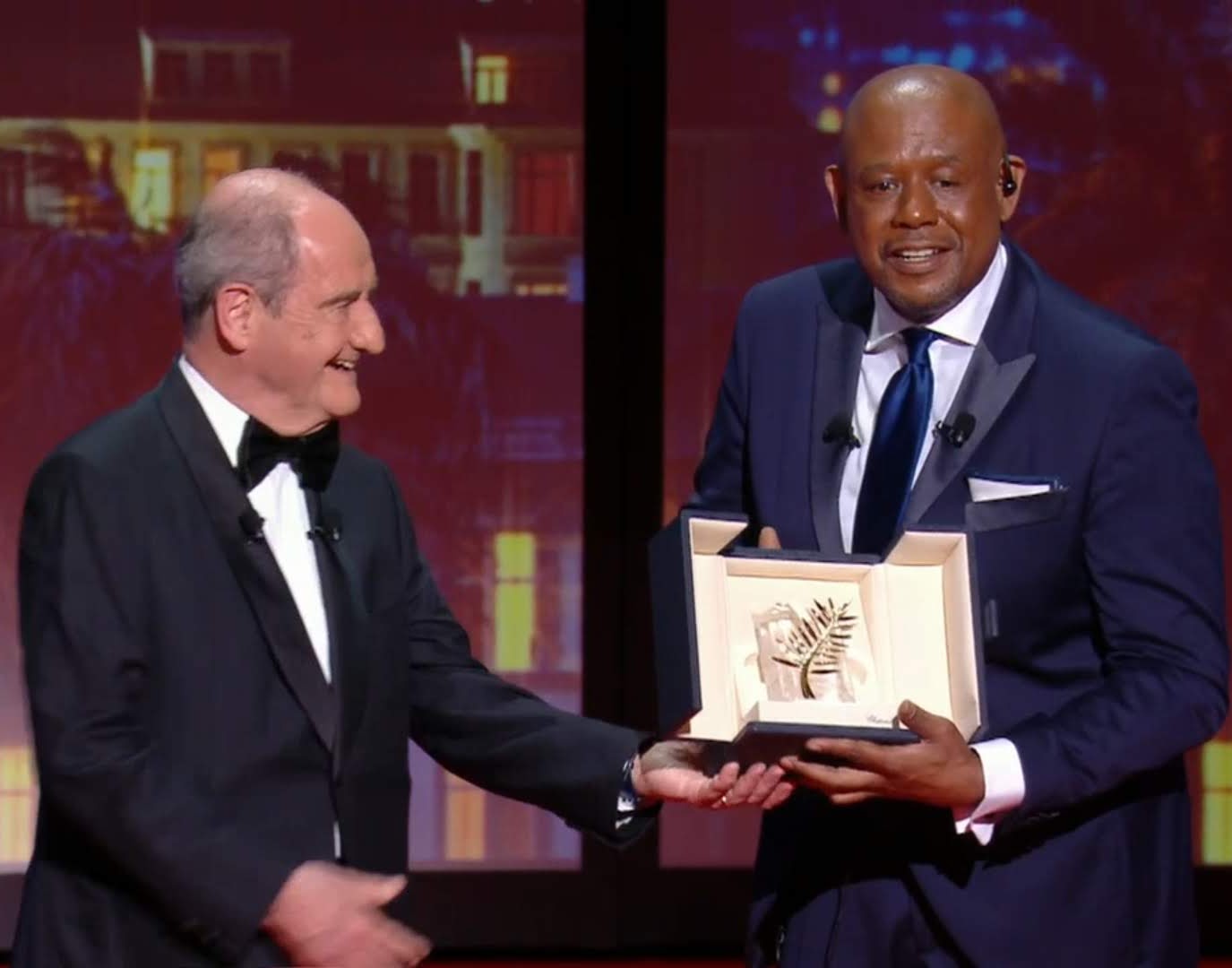 May 18, 2022 – Yesterday, WPDI CEO and Founder, Forest Whitaker, was the guest of honor at the Opening of the 75th Cannes Film Festival in France. He was invited to deliver the opening speech of the ceremony and received the Honorary Palme d'Or from Pierre Lescure, the President of the Festival.
This prestigious award from one of the most prominent institutions in the world of cinema came in recognition of his exceptional career as artist and producer as well as his unwavering commitment to humanitarian issues and social justice. The award was conferred on Forest Whitaker to highlight how he has profoundly transformed the film industry through his work both on and off the screen.
During his remarks when being awarded the Honorary Palme d'Or, Forest Whitaker said: "As I returned to the Palais today, memories came flooding back to me from 34 years ago, when I was first invited to Cannes in support of the movie Bird. […] The encouragement and support I received at Cannes assured me that I'd chosen the right path for myself, and truly opened doors for me to be viewed as an international artist."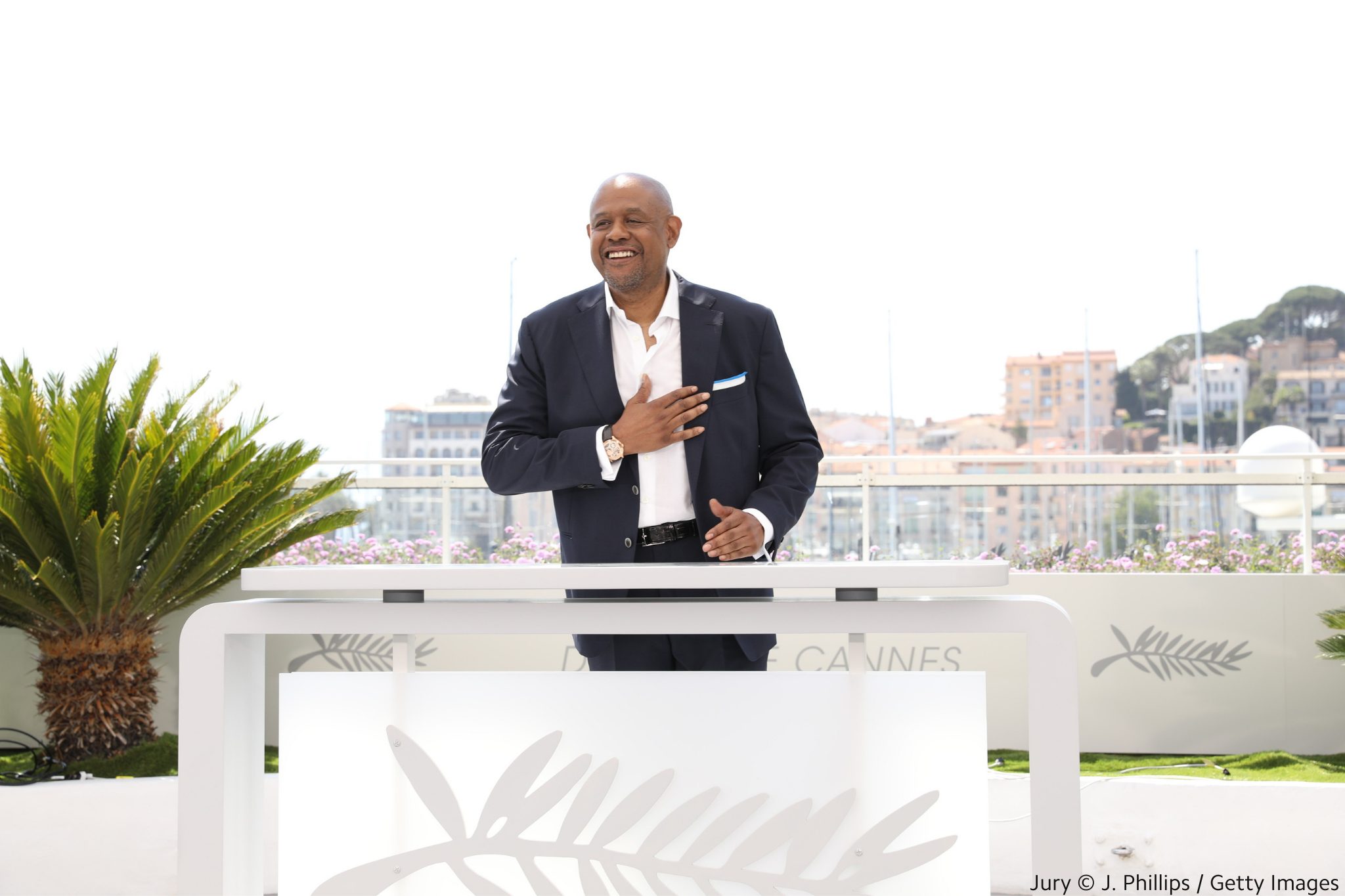 Indeed, Forest Whitaker's connection to the Festival de Cannes spans decades. In 1988, he won the Best Actor award, his first ever award, for his portrayal of Charlie Parker in Clind Eastwood's "Bird". He appeared in three more films selected at the Festival during the 1990s: Bill Duke's "A Rage in Harlem," Abdel Ferrara's "Body Snatchers," and Jim Jarmusch's "Ghost Dog: The Way of the Samurai." In 2006, a restored copy of the 1986 classic "Platoon" was screened at the festival, with Whitaker portraying Big Harold, and in 2013, Jérôme Salle's "Zulu" was screened at the Festival, with Whitaker starring alongside Orlando Bloom.
Forest Whitaker's lifelong commitment to activism through film and humanitarian initiatives with WPDI has led him to become one of the most respected actors and producers in Hollywood today. Fighting against racial discrimination, community violence, poverty and inequality has been the driving force behind Whitaker's artistic and humanitarian efforts for years, and this recognition from the Cannes Film Festival is evidence of the enduring impression he leaves on viewers, beneficiaries of his work in sustainable development and in government decision-makers.
Whitaker's commitment to humanitarian causes was also signaled at the Festival with the world premiere screening of For the Sake of Peace, a documentary film directed by Christophe Castagne and Thomas Sametin and produced by WPDI, Significant Productions and R2 Production. The film tells us how two youths, a young mother, Nandege, and a football coach at a camp for displaced persons, Gatjang, chose to fight for peace in their respective communities in two different places of South Sudan, a country ravaged by war. The film teaches us how hope and peace can be found even in the darkest of places, thanks to patient humanitarian efforts and the incredible resolution and commitment of ordinary people with an extraordinary determination to improve life for the people around and beyond.
The production team of For the Sake of Peace! From left to right:
Christophe Castagne, Director;
Richard Rohou, Executive Producer;
Caroline Descombris, Producer;
Forest Whitaker, Producer;
Thomas Sametin, Director;
Julien Lecat, Editor;
Nicolas Houlot, Production Manager. pic.twitter.com/pRVke6MY1f

— WPDI (@connectWPDI) May 18, 2022
About the film "For the Sake of Peace"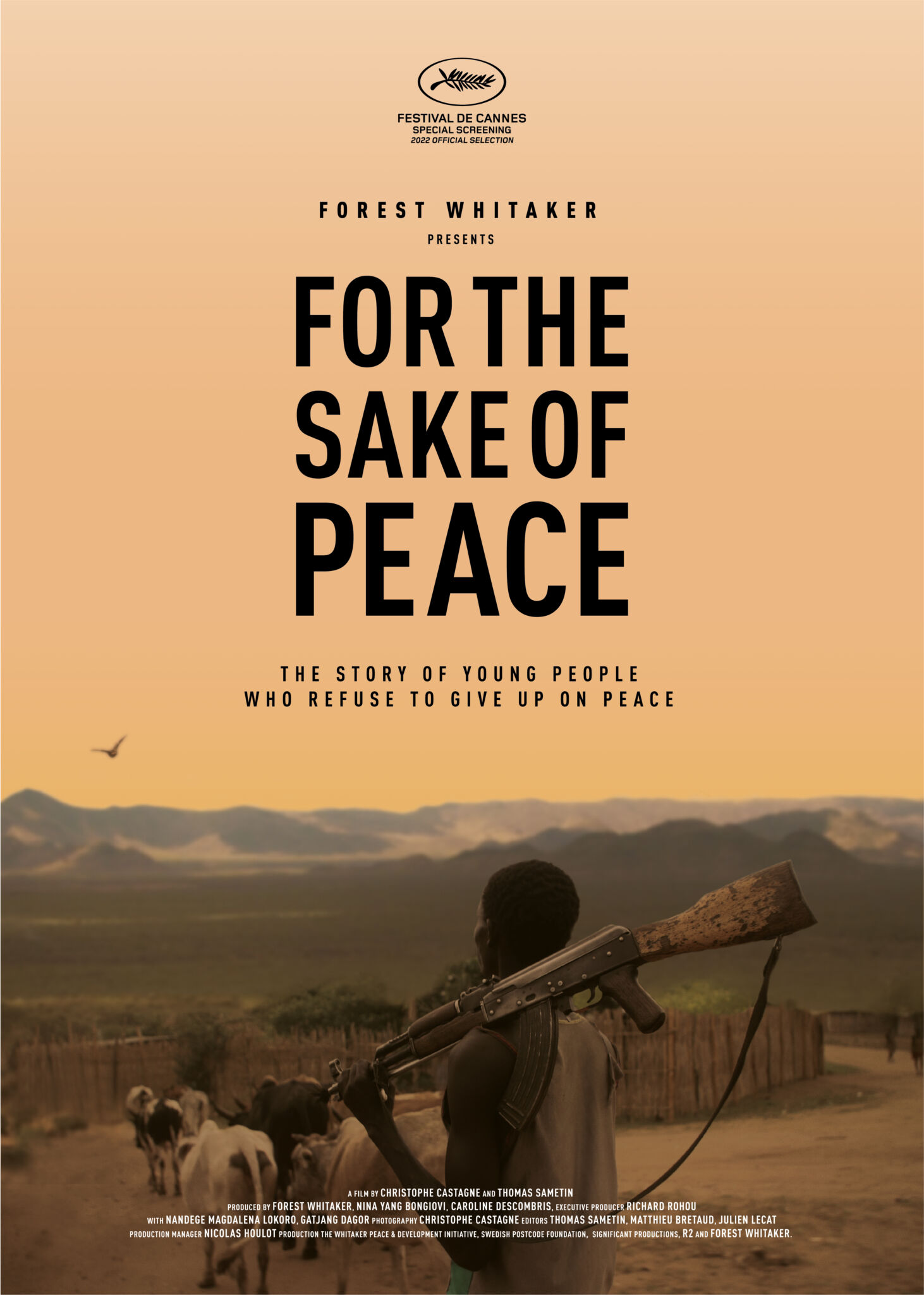 Synopsis: South Sudan is the youngest country in the world, at war with itself, with over 350,000 people killed since its inception in 2011. However, through this darkness, its endless cycle of conflict has hope: the determination of young women and men who refuse to give up on peace. Gatjang, a referee in a refugee camp of Juba, uses sports to bring a culture of peace to children and youths from adverse tribes. And Nandege, a young mother, becomes a successful mediator against all odds to address a lethal conflict that has opposed communities of the Kidepo Valley for generations. Through their stories, we gain awareness of the paths open to our humanity, which resonates across backgrounds and borders.