October 28, 2022 – WPDI is very proud that the documentary "For the Sake of Peace" (2022), directed by Christophe Castagne and Thomas Sametin and produced by WPDI, Significant Productions and R2 Production, was awarded the Peace and Sport Documentary prize at this year's Sportel Awards in Monaco on October 25th.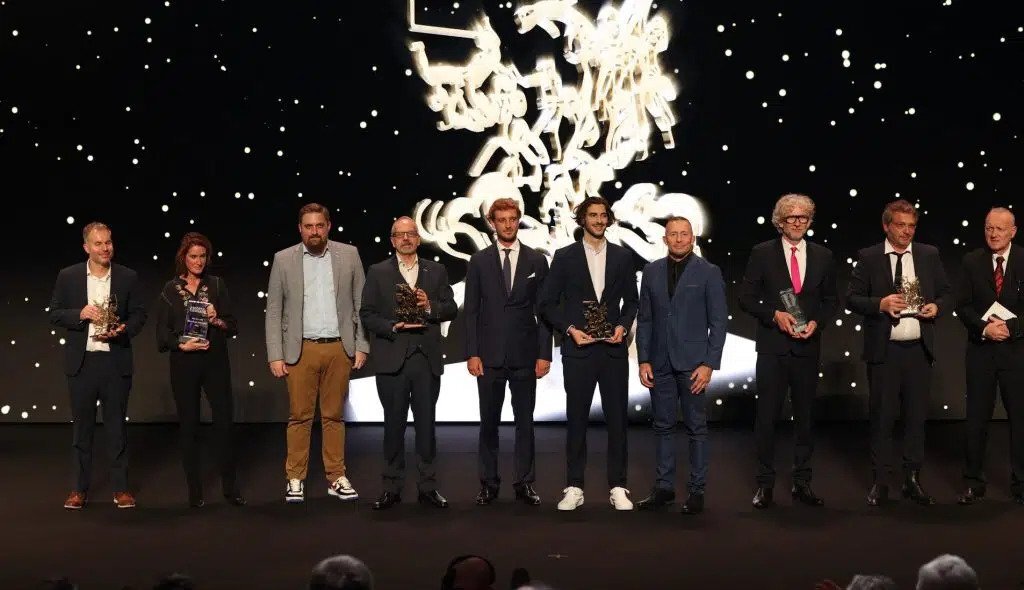 The winners of the last Sportel Awards ceremony with the president of the jury, Georges St-Pierre.
Photo credit: Sportel Awards
The documentary film, presented at the Cannes Film Festival earlier this year, focuses on South Sudan and the resilience and actions of young people who believe in peace and reconciliation for their country, which has been ravaged by conflict. South Sudan is the world's youngest state, in internal conflict, with over 350,000 people killed since 2011. Yet, through this darkness and repeated conflits, a hope shines through: the determination of young women and men who refuse to give up on Peace. Gatjang, a referee in a camp for displaced people in Juba, uses sport to pass on a culture of peace to children and young people from tribes opposed by stubborn hostility. Nandege, a young mother, manages to emerge against all odds as a talented mediator in the settlement of a deadly conflict that has pitted communities in the Kidepo Valley against each other for generations. Through their stories, we become aware of the paths available to our humanity and their resonance across horizons and borders.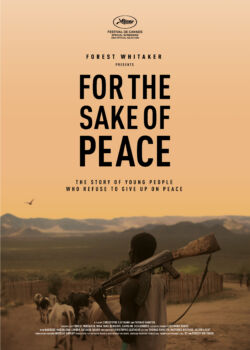 A Jury composed of Peace and Sport champions decided to award this year's prize to Christophe Castagne and Thomas Sametin, which was subsequently presented to them at the award ceremony by international footballer, Eliaquim Mangala, who said: "Films have the ability to convey the emotions and values transmitted through sport. The winner of the award, "For the Sake of Peace", brilliantly shows how sport, and in particular football, acts as a universal language and can become a powerful vehicle for unity and acceptance of differences within and between communities. Congratulations to the makers of this film!"
Director Christophe Castagne said: "Forest Whitaker's request was to showcase South Sudanese people who are fighting for peace on a daily basis. In For the Sake of Peace, Thomas Sametin and I portray two 'ordinary heroes' in a pivotal role, Gatjang as a teacher of the values of respect and camaraderie inherent in sport, and Nandege as a spokesperson for much-needed wisdom, promoting peace. Shot in the second most violent country in the world, it took us six years to make this film, but it allows us to portray two ways of making peace in parallel. In particular, that of leisure as a medium to educate a population to love its opponents and to spread tolerance. Indeed, by getting involved in the organization of football matches, Gatjang tries to bring together the best players, regardless of their ethnicity and background, to take them as far as possible. If these men forget their differences and give their best, together they could create the first national football team in South Sudan. Football gives these young people hope for a better world. That is the incredible power of football. South Sudan is one of the youngest and most violent countries in the world that has gone completely under the media radar. However, this documentary bets on virtue and light, on peace, because if this country comes out of it, and I hope it does because it is a wonderful country, it will be thanks to its youth!"
About Peace and Sport
Peace and Sport is a neutral and independent organization based in the Principality of Monaco and founded in 2007 by Joël Bouzou, 1987 Modern Pentathlon World Champion, Olympic Medalist and President of the World Olympians Association. Under the High Patronage of H.S.H. Prince Albert II of Monaco, Peace and Sport takes concrete action to demonstrate the unifying, educational and social impact of sport through sports diplomacy initiatives and field programmes with the support of the Champions for Peace.