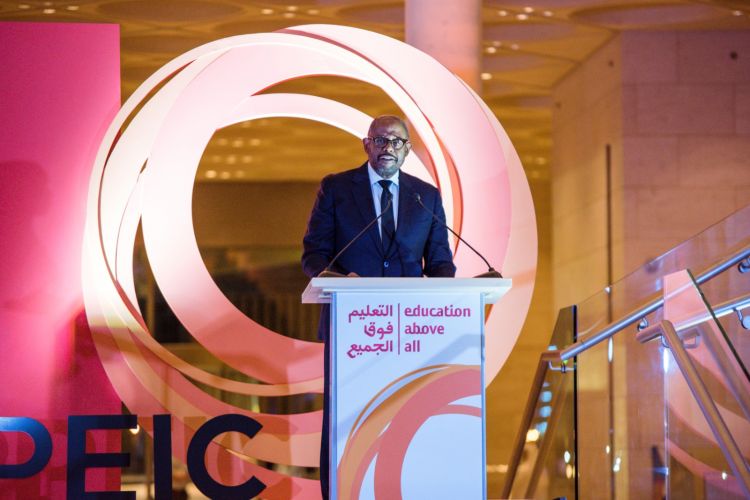 December 3, 2019 – From November 19 to 21, Forest Whitaker and WPDI participated, in Doha, Qatar, in the 2019 edition of the World Innovation Summit for Education commonly known as WISE, an international initiative aimed at transforming education through innovation that gathered more than 3,200 educators, decision-makers, and influential experts from the public and private sectors from over 100 countries.
At the invitation of our partner the Education Above All Foundation (EAA), our CEO and Irene Lutwala, one of our youth peacemakers from Acholi in Uganda, highlighted how our work in conflict- and violence-affected areas creates a difference in terms of educational opportunities for children and youths from vulnerable communities.
One of the high points of the week was the tenth-anniversary celebration of the Protect Education in Insecurity and Conflict (PEIC), an EAA program designed to address threats to education worldwide and support disadvantaged children impacted by conflict. PEIC, as well as EAA and the WISE, were all founded by Her Highness Sheikha Moza bint Nasser, one of Forest Whitaker's fellow UN Advocates for the Sustainable Development Goals (SDGs) as well as a UNESCO Special Envoy. Pointing to values shared and joint enterprises initiated by WPDI and EAA in Uganda and South Sudan, Forest Whitaker declared in his keynote speech at the event "I am grateful to EAA and PEIC, in particular, for their support and outstanding work on education in conflict. We share the belief that education must be protected from conflict and promoted as an antidote to conflict."
Stressing the educational challenges faced by children and youths in conflict areas, he called upon the audience and the international community to increase efforts to empower children and youths, notably through peace education and vocational training.
As part of the commitment of WPDI and EAA to promote youth leadership, Irene participated in two events organized at WISE to offer a platform for youths to voice their views and exchange on key issues. During the first event on mobilizing youths for advocacy on education and human rights issues, she said that "inclusive advocacy starts by developing empathy with the people we want to speak out for." The second event was a closed session to allow for direct exchange between the youths and Her Highness Sheikha Moza bint Nasser on how to best promote education in remote areas across the world. Irene reported to us that her experience at WISE had been unique and that she had learned a lot from the presentations and discussions she had attended. Upon leaving Doha, she was very impatient to reconnect with her peers back in Uganda to share with them the lessons she drew from the summit.